Europe has its fair share of ice churches and even more ice hotels. However, most of them can be found in the frozen and wintery northern region of the continent. In 2007, when Romania joined the European Union and Sibiu was named the European Capital City, Romania gifted Eastern Europe with a one-of-a-kind, consecrated, and fully-functioning Ice Church.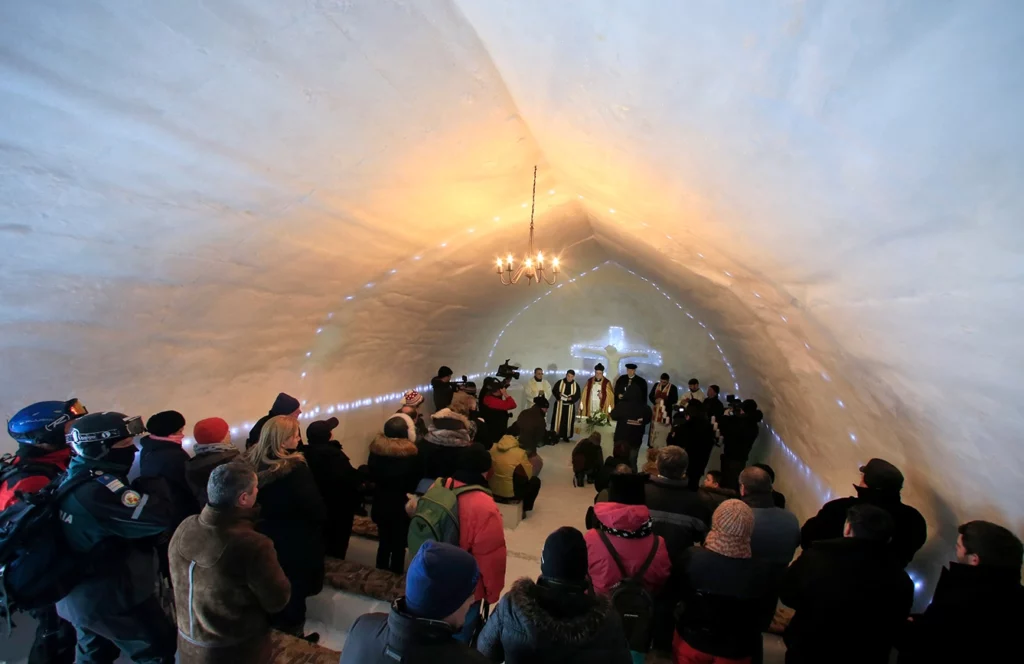 Located in the Făgăraș Mountains, Romania's greatest massif, the Ice Church neighbors the Bâlea Lake and, of course, an Ice Hotel. At an altitude of over 2000 meters and with a unique view, this Ice Church is the perfect place for a cool event – quite literally.
Bâlea Lake Ice Church: open for all denominations
You might think having a blessed place of worship made entirely out of ice is in itself a great achievement, but this Ice Church goes above and beyond your regular sanctuary. What sets it apart, other than being made entirely out of ice, is its ecumenical character. For over one decade and counting, the Church has been blessed by multiple priests of different denominations.
Moreover, the Holy place is open for weddings, christenings, events, and services for people of all religions. And unlike other majestic Ice Churches, such as the one High Tatra Mountains, this one is consecrated, meaning you can actually get united with your loved one within the ice walls of the igloo-like construction.
The Slovakian one may have been built as a replica of the famous Sagrada Familia, but the Bâlea Lake Church wanted to showcase national beauty and authenticity and took inspiration from one small traditional Transylvanian church. With a height of 6 meters, length of approximately 14 meters, and width of 7 meters, the Ice Church can easily host an intimate event that you, your family, and close friends can enjoy. The inside features ice sculptures of the Last Supper and the Cross, as well as other sculptures of the Virgin Mary and Baby Jesus, all of which pertain to a particular denomination in order to further exhibit its ecumenical nature.
Hidden between the peaks of the Făgăraș Mountains, the Ice Church remains available for several months a year to all those who seek a place of worship in the solitude of the mountains. And each year, once the weather conditions permit, the Church is built again so that you, and many other hundreds of tourists, can step foot in one of the very few Eastern European Ice Churches.