The fantasy world of "The Witcher," created by Polish writer Andrzej Sapkowski, has officially entranced the globe. The book series has been translated into 37 languages and sold over 15 million copies. It has also inspired a hit video game series, Geralt of Rivia, developed by Polish studio CD Project Red, with three standalone games, multiple expansion packs, and three spin-off games. The cherry on top is the worldwide phenomenon Netflix series, both seasons of which are firmly placed in the "Top 10 Most-Watched Shows of All Time."
"The Witcher" map as political atlas of Poland
So, now that you've finished binging season two of the Polish phenomenon for the umpteenth time, you may have lingering questions about… say… the exact location of Kaer Morhen. If that's the case, a team of geographers from the University of Warsaw has just the thing for you.
"The Geographic and political atlas of Poland. Poland in the modern world: the 2022 perspective" is a continuation of a research project from 2015-2018, resulting in an award-winning atlas. For the current project, researchers have gone beyond maps describing Poland, reaching out to various cultural texts as well. "The Witcher" fell squarely into this category, much to the delight of fans everywhere.
"The Witcher" world map that the researchers have created is inspired by the works of Andrzej Sapkowski and other artists who have been part of creating the world. It contains objects mentioned in all works: books, series, games, and comics.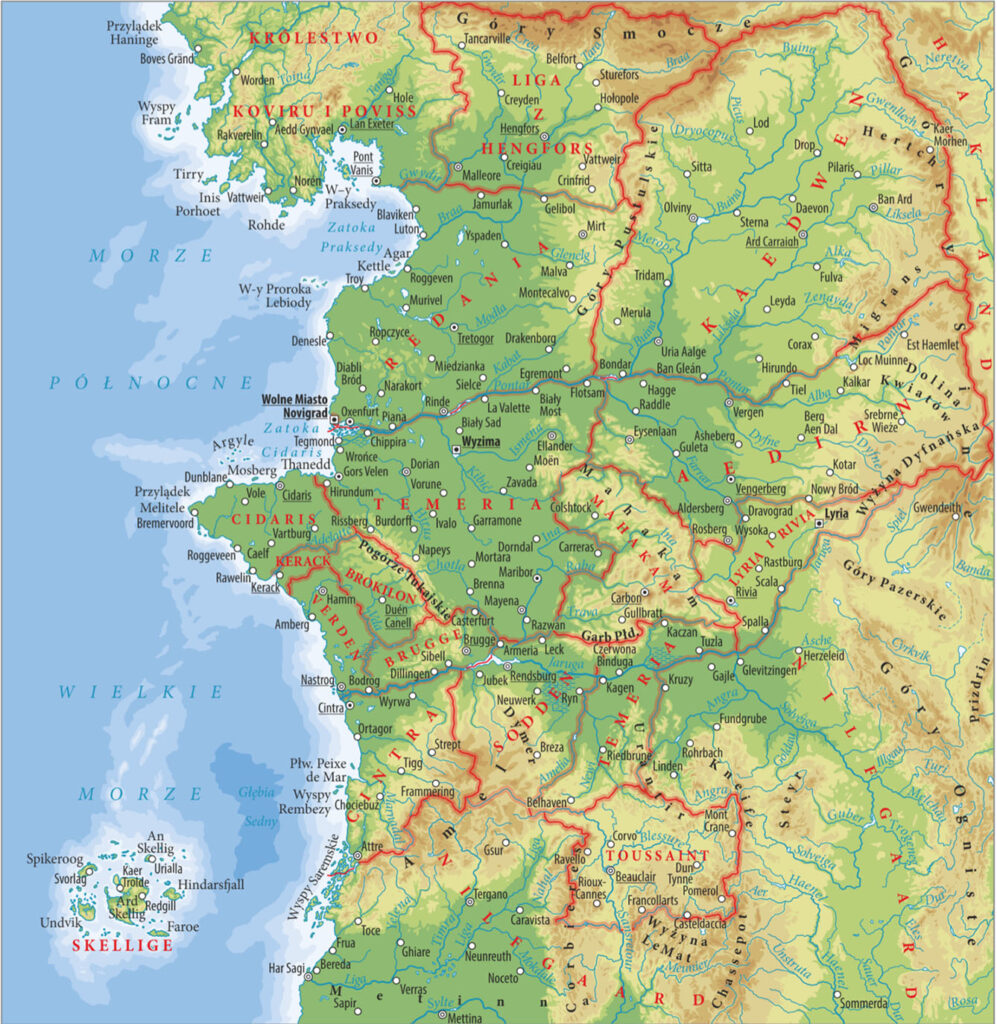 Here be dragons – Map of Witcher world
According to the research team, "There are also many names and geographic objects invented to complete the map. The overall layout of the countries, mountain ranges, and major rivers are consistent with the maps developed so far by fans.
However, it is the first such detailed map that accurately shows the topography, the course of borders and rivers, the location of the islands, and the location of cities classified according to the number of inhabitants." (You can take a look at the researchers' site here)
With a third season of the Netflix series already ordered, and a spinoff series set to air some time in 2022, there's plenty more Witcher content to come. Only this time, it'll be a tiny bit easier to navigate.