The answer is – yes, there are! Be it down to the ingredients, preparation, or any other reason we might not quite comprehend – there are some dishes served in certain countries on Christmas tables that are not customary to be made outside that period. Read on to check which dishes to grab first when in Central Europe during the Christmas season.
Kūčiukai with poppy seeds milk (Lithuania)
Lithuanians love their festive kūčiukai, which is just one of many names for this delicacy. As the season is approaching, bakeries begin to offer bags of these bite-sized sweet dough snacks, spotted with poppy seeds. Traditionally made using yeast, kūčiukai are simple to prepare. Served in the company of poppy seeds milk, which is made using poppy seeds, water, and honey, it is bound to puzzle your tastebuds as, more than likely, they never had an opportunity to sample such a combination.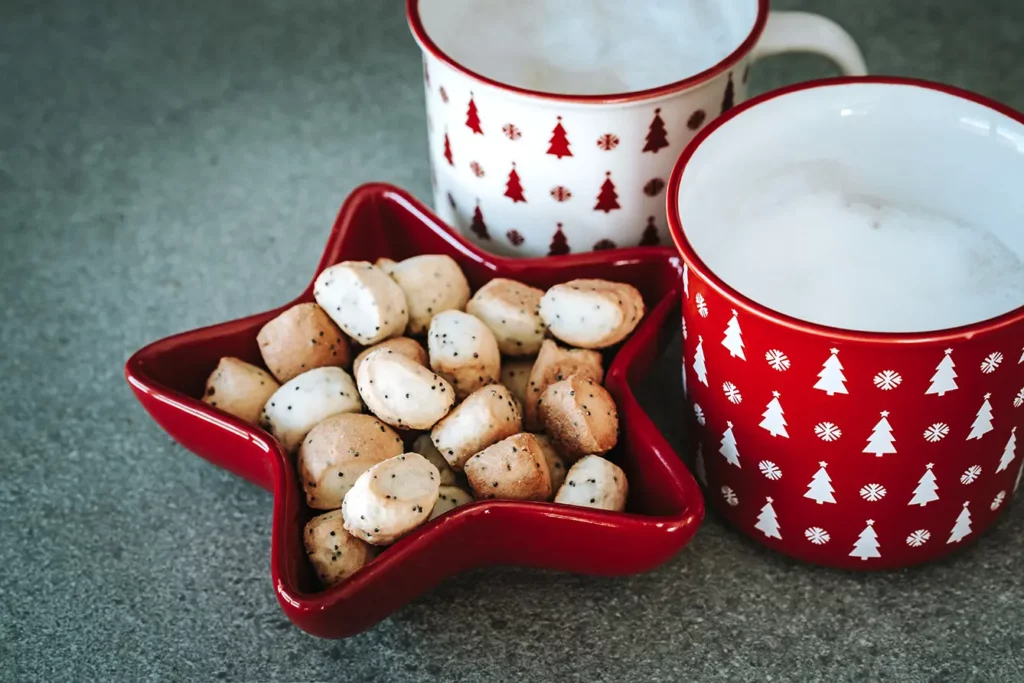 Since kūčiukai are essentially tiny pieces of bread, it helps to understand their significance if you realize that bread is an important cultural element in Lithuania. As the basic food, bread symbolizes virtues such as kindness, self-control, loyalty, and humility. Its significance goes back far into the pagan times of Lithuania, and hence the presence of special, festive pieces of bread on the Lithuanian Christmas table should not come as a surprise.
Kutia – a poppy seed dessert (Poland)
Polish people tend to eat more poppy seeds during Christmas than at any other time of the year. They are an ingredient of a poppy seeds strudel (makowiec), and are added to another interesting dessert, namely pasta with poppy seeds. They are also the main ingredient of makiełki (a cold bread pudding with poppy seeds). However, kutia seems to be the best known of all of them and is prepared most widely. And what goes into a kutia besides poppy seeds? Barley, honey, dried fruit, nuts, and, in some households, double cream.
The dessert is metaphoric, as poppy seeds traditionally symbolized fertility and prosperity, while the barley symbolized life. The dish was already known during pagan times and was adopted as a Christmas treat thanks to a legend saying that Mary, the mother of Jesus, ate kutia on the day she gave birth to the Saviour. The name probably derives from the Greek word kókkos meaning a grain, a seed, or the action of obtaining barely. Traditionally served with this grain, these days, the barley is often dropped and substituted for a larger quantity of dried fruit and nuts. Either way, it is a delicious treat that is not traditionally eaten outside of Christmas time.
Staročeský Kuba (Czechia)
This unusual barley mushroom risotto is a traditional Czech Christmas dish. Kuba, made from pearl barley, was the only dish served on the day of Chrisms Eve at lunchtime, which was allowed during the fasting preparation for Christmas. There was a legend saying that anyone who should observe the fast for the whole Christmas Eve Day would see a golden pig in the evening (hence the golden pig ornaments popular in Czechia for Christmas). Seeing this mythical creature was to be a sign of prosperity and good fortune in the coming year. Kuba was the only exception from the fasting rule.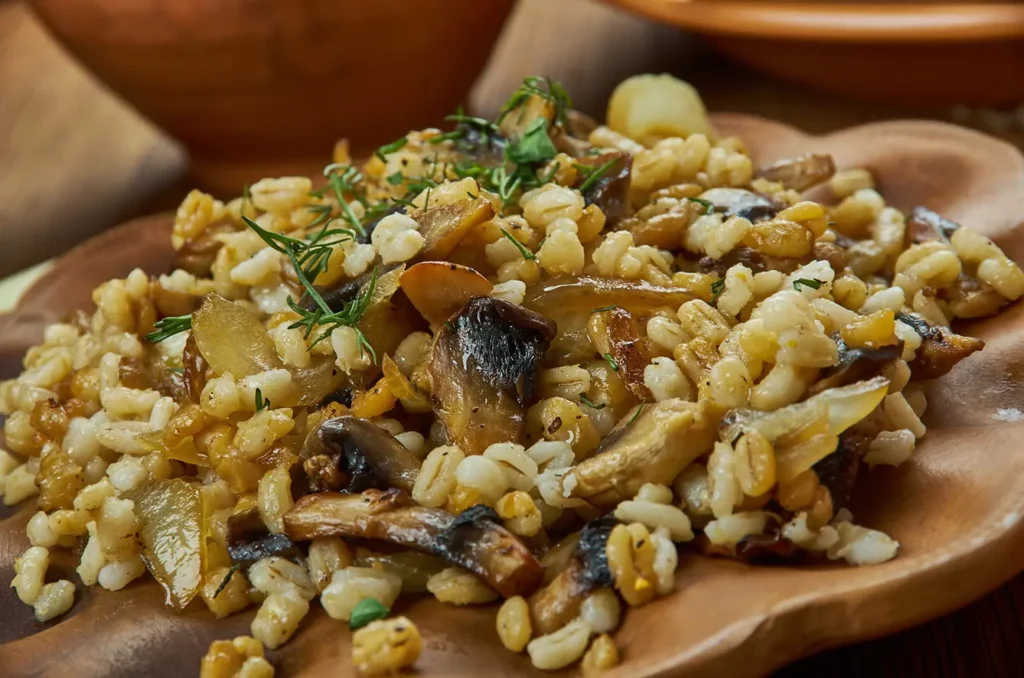 Now, eating pork on the day of the winter solstice was a pagan tradition that probably may have something to do with the origins of the golden pig legend (and we mustn't forget pigs were an ancient symbol of fortune). Kuba is a creamy dish consisting of everything that would have been normally eaten in Czechia centuries ago and is simply delicious, seasoned with some marjoram and cumin. Most importantly, however, eating it on the day before Christmas does not jinx your chances for a prosperous year, as it doesn't anger the golden pig!