Edvard Rusjan was born in 1886. He lived in the Primorska region for his all life in what is now Slovenia and Italy. Together with his brother Jože, they learned the cooper trade from their father. He took an active part in his school's cultural and sports life. In particular, he proved to be an excellent cyclist. He won races with a bicycle he had made himself. He was a very talented constructor. From cycling, his path led him to motoring and from motoring to aviation.
In 1903, American aviation pioneers – the Wright brothers – took flight for the first time with their self-made plane. The Rusjan brothers, Jože and Edvard, worked similarly – but in significantly more modest conditions. The success of the Wright brothers led them to the idea of ​​using their modeling experience to build a real airplane.
A family affair
Their father, who for a long time opposed the "dreams" of his sons, decided to support them financially. After Edvard visited an air show, where he learned about the latest aviation technology, the brothers built their first motor plane within a month. Edvard could make several short flights with it.
This is how motorized flying began in Eastern Europe. The Rusjan brothers named their planes with Edvard's nickname, Eda, plus a serial number. They built seven planes in less than a year, which Edvard flew until they broke and would then start over. In 1910, Edvard organized an air show with Eda 5. Over 10,000 people gathered, but it failed to fly. He let the spectators down again with Eda 6, but with Eda 7, he successfully flew several times.
The brothers dreamed of starting their own airplane factory, which they perfected based on their experiences. A humorous inscription on the inner wall of their cooper's workshop, "Rusjan Aircraft Factory," also testifies to the dream. To bring it to life, they needed capital. As a cyclist, Edvard became acquainted with the entrepreneur Mihajlo Merčep, who was also interested in aviation.
Major advancements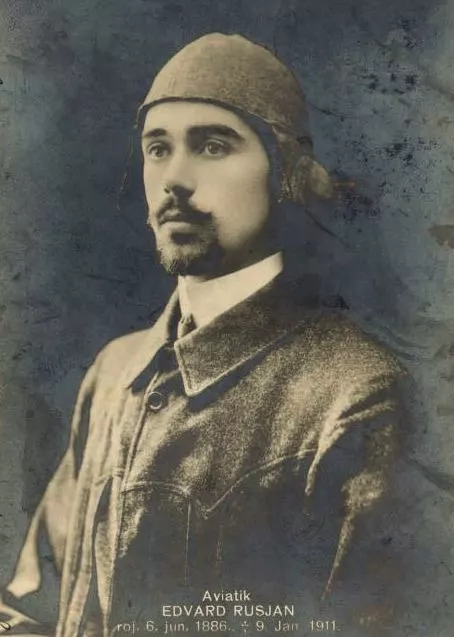 Merčep took over the leadership and financing of the entire plan, while Rusjan took care of the design and pilot skills and provided their experience. They designed a light aircraft with a wingspan of 14 meters. Due to the more powerful engine, the plane showed excellent flying abilities. It took off after only 28 meters of the runway, which was the best achievement of its kind in the world at the time!
With it, Edvard made more than 20 flights, the most famous at the rally on 26 December 1910, when he circled the Zagreb airport six times at a height of 100 meters. Merčep wanted to promote his workshop. The first stop of the "publicity tour" was Belgrade. Successful flying would be of decisive importance when concluding bargains, so on 9 January 1911, Edvard decided to fly despite the lousy weather. As he was descending, the wind broke his wing. The plane crashed, and the young pilot died at the scene and was later buried with honors.
Despite the tragic end, Edvard's story can only inspire. From his modest beginnings in a cooper workshop, he was able to literary fly towards a brighter future. He proved that the sky is the limit once you have curiosity, work hard, show strong will, and have an innovative mind. Like legendary Icarus, he ended his life trying to get closer and closer to it, and his tragic death turned him into a legend.
Today, many monuments remind Slovenes of their incredible inventor who took on the world. The second largest Slovene airport was named after him, and he lives on in the eternal memory of all the nation's pilots and inventors.