In the year 1364 Polish monarchs surely had a reason to feast. A summit they had organized in Cracow was attended by the Holy Roman Emperor, kings of Hungary and Cyprus, and numerous princes and dukes from all around Central Europe. The discussion revolved around the balance of power in the region.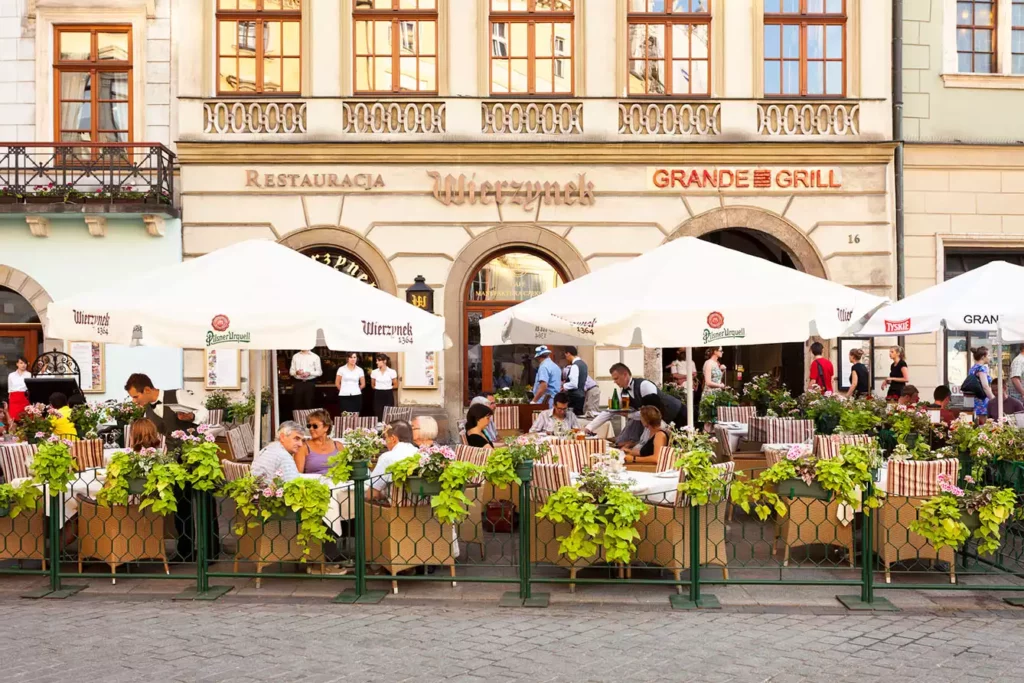 Polish King Casimir the Great paid particular attention to PR and worked hard to highlight the wealth of his kingdom during this summit. So what's the best PR for countries? Why, the cuisine, of course. Therefore, underlining the importance of the meeting were decadent feasts that hosted all the VIPs from the Congress of Cracow. As one would expect, it was rich in every possible food and drink available.
This PR effort has endured for centuries, as this is how the story is still told to children in Polish elementary schools. What the children hear is not a tale of the politics of the Congress of Cracow, but rather a story about the feast. And Mikołaj Wierzynek, Cracovian merchant and financier, is credited with being the first Polish restaurateur.
There is some truth to the story. A city council member and entrepreneur did truly own a namesake inn: U Wierzynka (Eng: Wierzynek's). This wealthy inn owner did also co-organize the feast with the city council, though it's not likely that he was the actual chef.
Wierzynek: a provable feast
The supposed feast took place in late September 1364. Technically, it's not historically provable, as the only document that mentions it is a famous Polish chronicle by Jan Długosz, written some centuries later. But the story endures even until today as Wierzynek Restaurant in Cracow's old town bears the date of 1364 over its door. And yes, you can (and should!) visit. While the restaurant itself has not existed since the 14th century, it does, indeed, have some of the oldest roots. Featuring renowned Polish cuisine and a striking wine list with an expansive array of Polish wines, this eatery modeled on the original, which supposedly fed an Emperor, is well worth the cost.
And if the oldest restaurants in Europe are your thing, don't miss Wrocław, where Piwnica Świdnicka restaurant was in continuous operation for over seven centuries. The restaurant is located in the city's main square and was launched as early as 1273. In this case, it is a cold, hard fact, as its operation can be confirmed by solid documents – checks and invoices for the beer that was sold in the venue.
Unfortunately, Piwnica Świdnicka was suddenly and temporarily closed in 2017. However, it is still owned by the city. The pandemic put plans to reopen it on hold, but hopefully, the kitchen's ovens will fire up once again in the near future. And because it still belongs to the city, it will still be the same Piwnica Świdnicka, one of the oldest restaurants in Europe.