As a predominantly Catholic country, Poles are used to fasting. After all, in Christian traditions dating back to Medieval times, every major feast, including the most important saints' days, has been preceded by a day (or days) of temperance. And, as Easter is an exceptional Christian feast, it is preceded by not one but forty days of Lent. The period begins on Ash Wednesday – perhaps the most strictly observed day of Lent in the liturgic year.
Lent is a way to prepare for the feast. But how should one prepare for the Lenten season? The answer's apparent even in the most pennant of nations – feast as much as you can. "Carnival" in Poland encompasses all the time between the Christmas period (that ends on Epiphany, January 6th) and Ash Wednesday. (*This excludes Fridays, which are still being still lent days, though perhaps less so now than in generations before.)
Pączki, faworki and carnival
And here we have it. Some claim that the word "carnival" is derived from the Latin "carna, vale!" or "Farewell, meat" (though there are different theories). But Poles, like many nations in Europe, say farewell to the time of the feast, not with meat, but with sweets. There are two unique kinds that are used as send-offs: pączki and faworki.
Pączki, aka Polish donuts
When the word "donut" is translated into Polish, it's usually "pączek." But a pączek (pohn-check) is not the kind of donut with a hole in the middle – it's rather a jelly-filled donut. The traditional Fat Thursday pączek is a golden, fried bun made from yeasty dough and filled with rosehip marmalade, covered with a sticky, sweet glaze and candied orange peel.
That is what traditional pączek is – but of course, these days, there are novelty variants. Every day in Polish bakeries, you can now find variants, including those more traditional – with rosehip jelly instead of forest fruits –salted caramel, and more brave concoctions.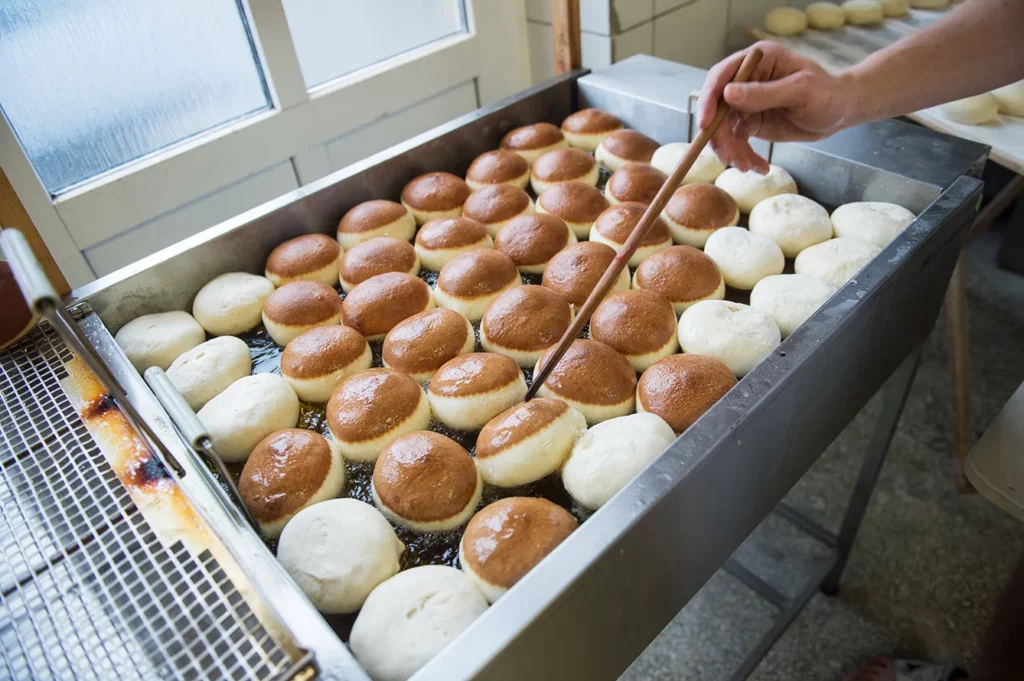 Every day? Yes, you read it right. Pączek is not reserved for the last days of carnival (sadly, it sometimes serves as lunch for those in a hurry), but Fat Thursday is the Feast of the Pączek.
Should you be in a Polish city on that day, you can find 100-meter-long queues (literally) to the most renowned pączki bakeries serving the delicacy. Some people even line up before dawn, hours before the shops open. Some organize watches, especially when it's cold, and most order pączki by dozens – as the effort deserves the reward. (*Some data show that the average Pole eats 2.5 donuts on Fat Thursday. The legend says that not eating one is a sign of bad luck, and Poles, it seems, take this to heart.)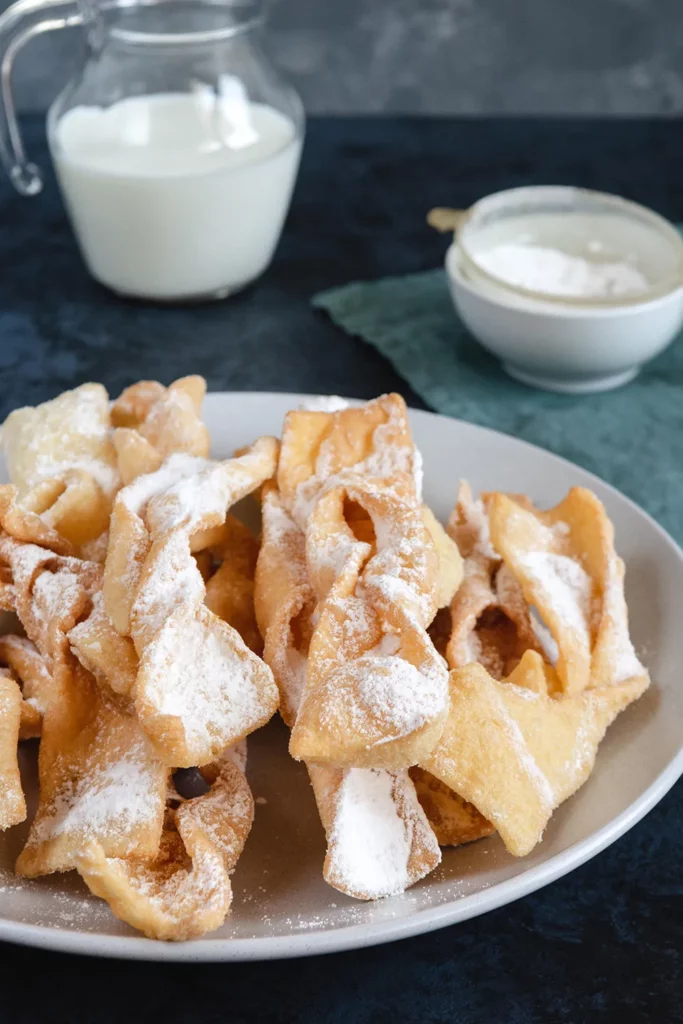 Faworki – unlike any other dessert
Pączki have competition, though – in the form of "faworki." These are airy, deep-fried crispy dough strips that – if not for powder sugar coating – would not even qualify as sweets. It's hard to tell by this description how yummy a well-done faworek is (*Note – "faworek" (fah-vohr-eck) is singular, and "faworki" (fah-vohr-ky) is the plural).
The secret is their crispiness and lightness. The dough has no yeast or baking powder, only sour cream and egg yolks. The dough strips are deep-fried, but the secret is to add some clear spirits to the dough, so the lard doesn't soak in. They also have a unique shape.
The dough is rolled out as thinly as possible and cut into strips – say, twenty centimeters long and five cm wide. Then, you cut a slit in the middle of the strip, parallel to its long edge, and roll one end of the strip through the hole. The effect is a bow-like shape that somehow adds to the general sense of crispiness – and collects more powder sugar as it is sprinkled on faworek through a sieve.
Now you get it. Dull as it may sound at first glance, it's a delicacy to die for – plus, you can eat a ton of them and not feel quite as guilty as eating a box of pączki.
Fat Thursday or Mardi Gras in Poland?
The question remains – when do Poles say farewell to Carnival? Should we do it on the last Thursday before its end, as they do in the south of Europe? Or maybe, as closer to Poland, wait for Mardi Gras, the last Tuesday before Ash Wednesday?
Why not both?
That's how we roll in Poland. As long as Fat Thursday (Polish: tłusty czwartek) remains the pączki day, Poles also celebrate "the last day," as it is called – ostatki. In my home, whenever there was time and energy to celebrate both feasts, homemade pączki are made on Fat Thursday. Then, faworki close out the festive season as they are brought out a few days later on "ostatki." Both treats are rather time-consuming to prepare, but both reward the efforts with extraordinary effects.
There is no official explanation for the fact that Poles prepare for Lent twice. Perhaps the country's previous division between countries of different cultures and later reunification is to blame. But no one is going to assign blame, as there is no crime to be punished – we just celebrate twice in a row and have both faworki and pączki!
In Poland, if something tastes really delicious, we say "palce lizać", or "finger-lickin' good." And on both Fat Thursday and Mardi Gras, there's a lot of finger-licking – from the sugary remnants of both pączki and faworki!
Be sure to also check polish crooked forest.