Czech Hiking Markers System is a phenomenon that is unparalleled anywhere else in the world. The first tourist route was marked on 11 May 1889 by the Czech Tourist Club. The Club gradually created more paths, with a short exception during the Second World War.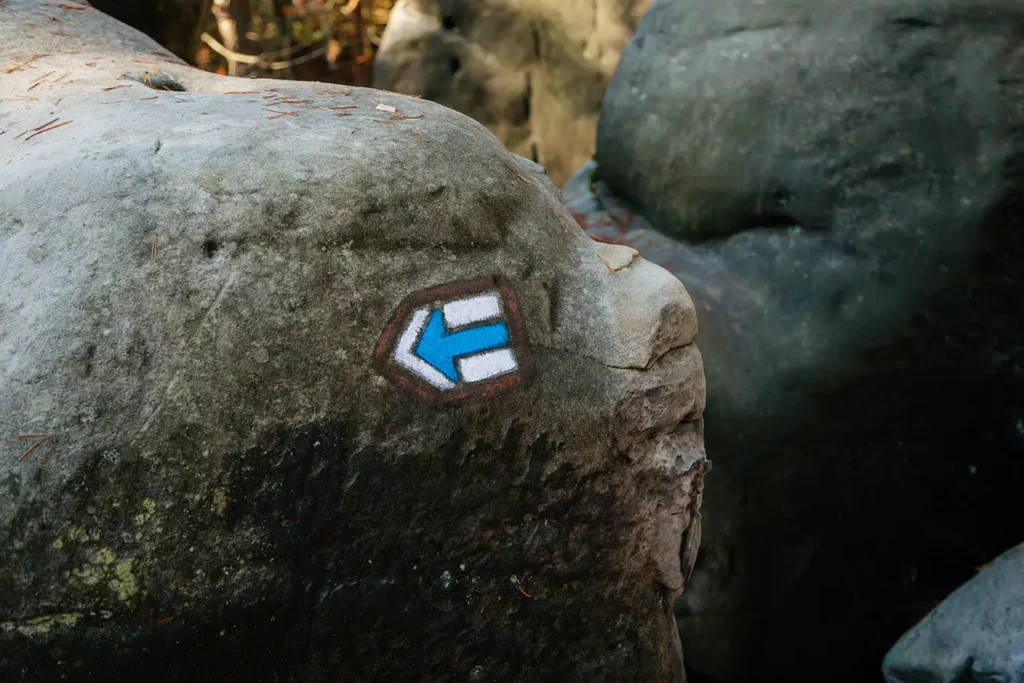 After 1945, the markings, neglected during the war, were steadily restored, updated, and further extended. The most significant expansion came after 1989 when volunteers expanded the network of hiking trails to the previously inaccessible border areas bordering Austria and Germany. Today there are over 42 thousand kilometers of marked hiking trails in Czechia. However, the entire network is updated continuously: about 400 to 500 kilometers of new routes are added annually.
Learning to read the Czech Hiking Markers
The mark itself is a small 10×10 cm square sign consisting of three horizontal stripes. The two outer stripes are white, and their purpose is to make the mark more visible. The color of the middle strip then determines the difficulty of the trail. There are four colors: red, blue, green, or yellow. As expected, red indicates a long-distance or ridge route (the more challenging route). Blue shows a significant route, green is a local route, and yellow is a short or connecting trail.
A slightly edited hiking mark will tell you where to go if your trail reaches a crossroad. It will be a standard mark, only reshaped as an arrow in the direction of your trail. If there are any unique points of interest on the way, one of a small group of special symbols will tell you about them. A scenic viewpoint, castle, chapel, ruins, or spring: they all have their signs!
Navigation all over the world
The Czech marking system is so unique and easy to navigate that it has expanded worldwide since its inception in the late 19th century. So, we proudly announce that if you learn to use Czech markings, you will never get lost in Austria, Azerbaijan, Israel, Poland, Romania, Slovakia, Brazil, and ten other countries.
The Brazilian footprint is especially exciting. The Czech Hiking Markers system is tightly connected to the town of Bataypora, where the volunteers marked trails spanning over 60 kilometers. Most of the people living there are descendants of Czech immigrants. The city itself carries the name of its founder, Jan Antonín Baťa, a shoemaking magnate from Czechoslovakia, who founded the town as a base for his company presence in Brazil.
So, if you ever get lost, no matter the country and the continent, look among the trees and search for the Czech Mark. It will lead you to safety!