Many say living in the countryside is the best way to spend your life. You are close to nature, you can grow your food, both fruits and vegetables), and you can enjoy the fresh air and silence you wouldn't experience in a big city. Yet there can be a twist to your country life. You could live in an ordinary village, or you could live in a UNESCO site.
The latter is the case of Holašovice, a small village of around 150 people living in 23 houses in the South Bohemian Region of Czechia. Many say it's not easy to live in a full-time UNESCO World Cultural Heritage site with tens of thousands of people visiting yearly. It's not like you can just change your windows if you feel like doing a minor renovation. Everything must be consulted and approved by preservationists.
What is Folk Baroque?
That is because the people in Holašovice live in an entirely preserved medieval system of farms and houses, built in a style known as "South Bohemian Folk Baroque." Folk Baroque is an architectural style typical for Czech villages, specifically in South Bohemia, which you won't find anywhere else.
The style emerged in the 1820s and reached its prime during the late 1860s. The farmers of that time were tearing down their wooden houses and barns and building more stable brick and stone ones. The roofs of the houses are beautifully decorated with volutes and other stylized ornaments depicting the owner's initials or profession.
The first mention of Holašovice is from 1263. The village has a very dark history. The first tragedy struck in 1525 when all the people died of bubonic plague, decimating Europe then. The near Cistercian monastery conducted the repopulation of the village, and primarily Germans settled in the area.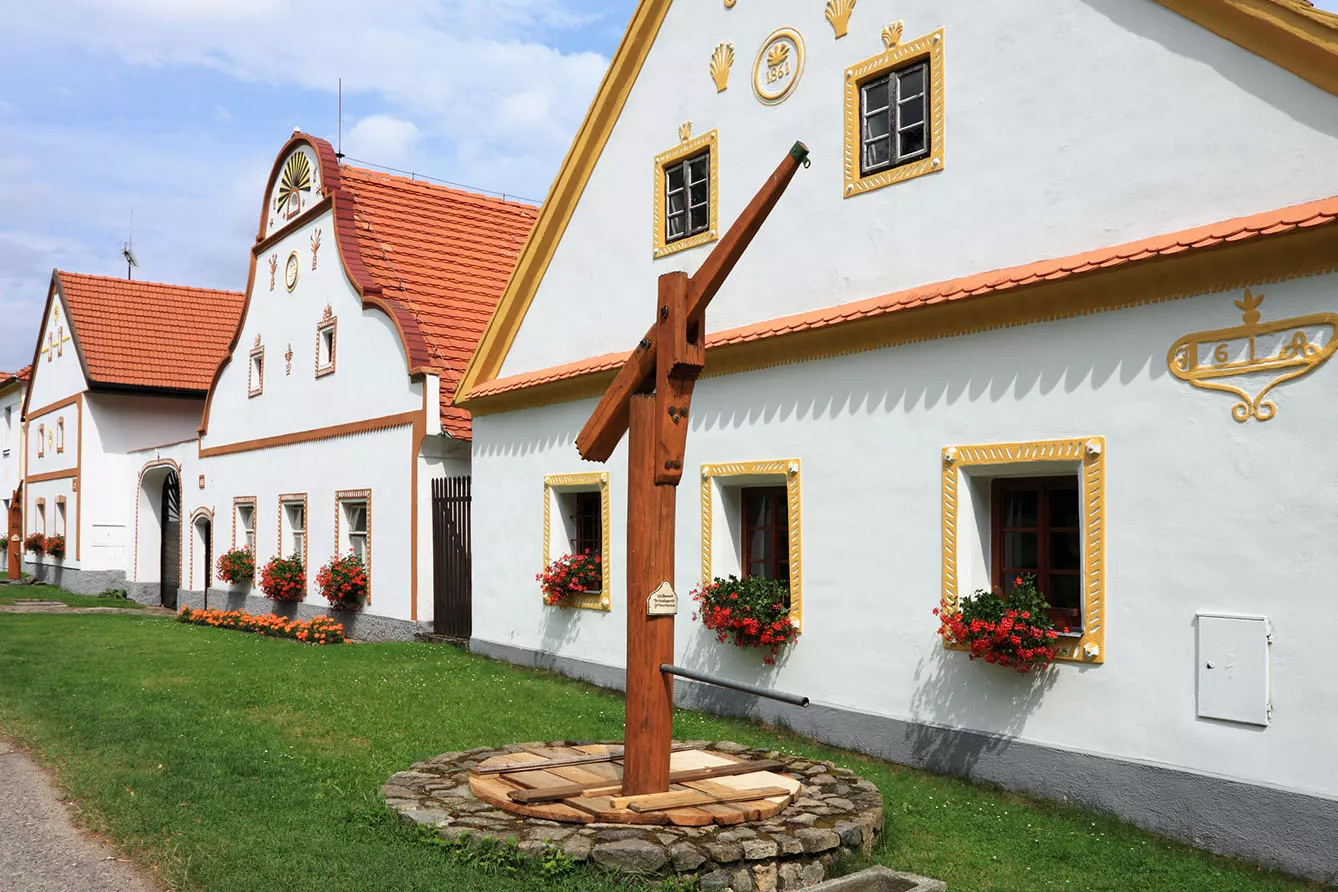 The second departure of the populace came after the Second World War, when the Germans were displaced from Czechoslovakia. After that, the village became a desolate and abandoned place under the Czech post-war Communist regime. The resurrection came in 1990. Since then, continuous reconstructions and investments have restored Holašovice to its former glory.
Holašovice: a place worth visiting
Now onto the critical question: What can you do when visiting Holašovice? First, there's a small ethnographic exhibition at the information center with old pictures of the town before the restoration. There's a small chapel and a pond with many ducks.
Unfortunately, you can't visit most of the farmsteads, as people actually live there. However, one farmstead does serve as the village museum. You can, of course, also grab a bite or a beer (or both!) at one of the town's two restaurants.
So, what do you say? Are you up for some baroque adventure enriched with good Czech food, ice-cold beer, and beautiful Southern Bohemian scenery? And if you are going to Hungary, be sure to see Budapest House of Music.