The creators call the space "Europe's largest and most ambitious, multiple award-winning urban cultural development." With the Budapest House of Music already being heralded as one of the "22 best new things to do in the world" by publications like "Time Out," they might not be exaggerating. The 9,000 sq. m, EUR 80 mln project features concert halls, exhibition spaces, and an open-air stage, taking visitors on a journey through European music history, with a particular focus on showcasing the history of Hungarian pop music from 1957 to 1993.
House of Music: leaves and music notes
"We want to show the wonder of music to a younger generation," says music historian András Batta, managing director of the new center. "Budapest has a very rich musical life already, so we didn't want to repeat what you can get elsewhere. This is not just for high and classical, but ethnic, folk and pop – the really exciting side of music."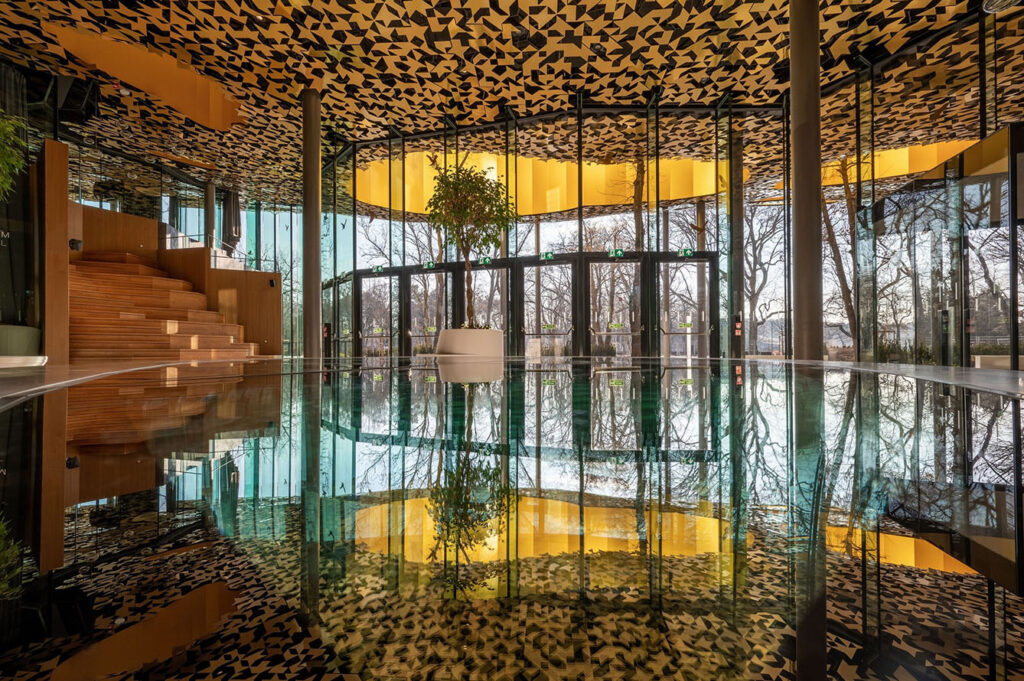 And exciting it is. The most prominent feature is the unique, undulating roof, which is a nod to the notion of visualizing sound waves. It is perforated with around 100 cavities to allow natural light, trees, and sound to infiltrate the two performance venues, exhibition spaces, and library. Light flows through to create a unique atmosphere as if visitors are walking under the trees.
On the ground floor, a glass exterior blends the building into its lush surroundings and directs the eye upwards toward the ceiling, where there are "30,000 decorative tree leaves set in the suspended ceiling and secured in place by a steel structure made out of 1,000 honeycomb-shaped elements," according to the designers.
Where boundaries blur
"We were enchanted by the multitude of trees in the City Park and inspired by the space created by them. Whilst the thick and rich canopy covers and protects its surroundings, it also allows the sun's rays to reach the ground. I envisaged the open floor plan, where boundaries between inside and outside blur, as a continuation of the natural environment," explained architect Sou Fujimoto.
In addition, this new cultural landmark utilizes a range of renewable energy strategies, such as geothermal sources, creating strong eco-credentials for the new Hungarian House of Music, which followed sustainable design principles in every aspect project.
The new structure replaces a group of run-down Soviet-era expo offices that had been off-limits and taking up valuable park space for years. The new Budapest House of Music strives to return some of the natural aesthetic to the area, with the architect noting, "We wanted to transform the forest into architecture."
What else is worth seeing in the world? Read the post about Shumen Bulgaria monument.