Nadia was the firstborn of Gheorghe and Ștefania Comăneci and their one and only daughter. On a cold November day in 1961, in the tiny town of Onești, Bacău, a legend was born. Though, of course, no one knew it yet, not even her parents.
Nadia was an incredibly active and energetic child, so her mother decided to enroll her in gymnastics. These are usually derogatory characteristics for children. For Nadia, however, this was her lucky charm, for this is where she would meet the humble beginnings of her astonishing career and long-lasting legacy as a gymnast.
Nadia Comăneci – Letters to a Young Gymnast
Nadia's talent was more than evident to the trained eye. At the age of 6, she was chosen to become a member of a gymnastics school, an experimental program forwarded by the esteemed coach Béla Károlyi, who, upon watching Nadia do some cartwheels in a schoolyard, decided in a heartbeat that he wanted her in his team. He knew that she was exceptional, and sure enough, he was proven right. One day, the whole world would know it, too.
"Romanians have a saying, 'Not every dog has a bagel on its tail.' It means that not all streets are paved with gold. When I began my career, I just wanted to do cartwheels." – Nadia Comăneci, Letters to a Young Gymnast.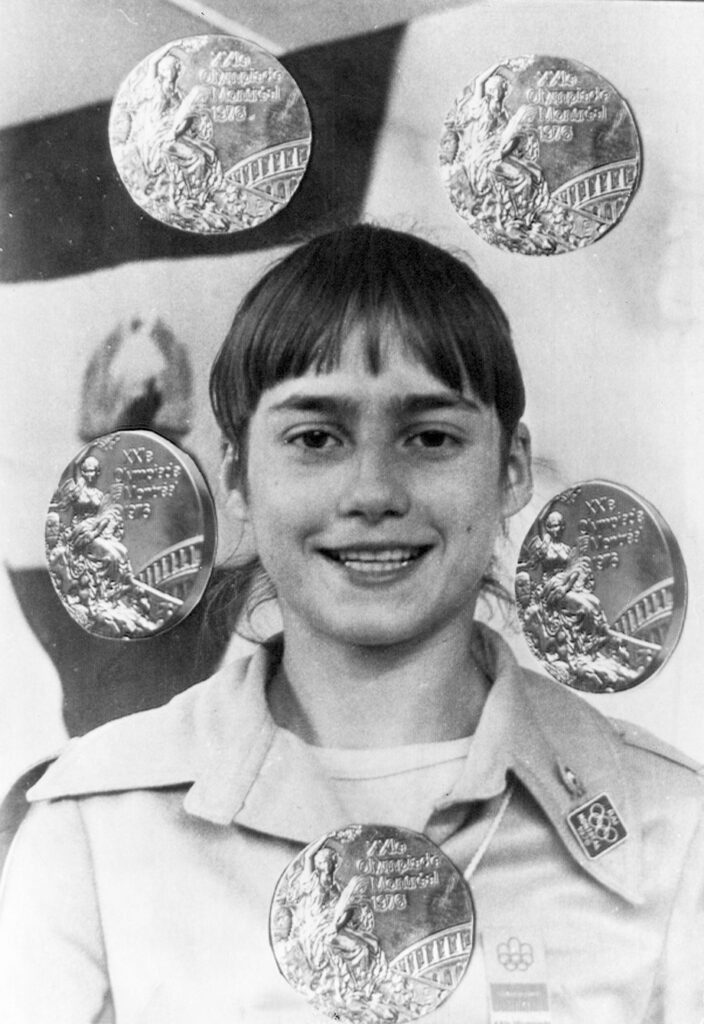 By the time she was 14, Nadia was the nation's pride and joy. In the 1975 European Women's Artistic Gymnastics Championships, she competed in five events, winning 1st place in four of them. As for the fifth, you may wonder, she came in second place. Everyone had their eye on Nadia – both nationally and internationally, and the Associated Press declared her the "Athlete of the Year."
In 1976, history was made
Expectations were high for her performance at the 1976 Olympics, and the reality surpassed them all. Her performance on the uneven bars shocked and amazed the entire world. She was as light as a feather yet strong, young and fragile, yet fierce and powerful. She was perfect. She was the Olympics' first-ever perfect ten. 
For one whole minute, the world stood still as millions of eyes gazed at the scoreboard. Confusion, excitement, and amazement filled the air. A perfect ten was believed to be unattainable, impossible – it had never been seen before. The scoreboard could not even display such a result; it was technically impossible. Yet she did it. She beat the technology, made the impossible possible, and, most importantly, made history.
"Hard work has made it easy. That is my secret. That is why I win." – Nadia Comăneci
And she kept on winning. At the Montreal Olympics, she scored six additional perfect 10s, returning to Romania with three gold medals, one silver, and one bronze. Then, in 1979 she won her third consecutive European all-around title, making her the first-ever gymnast – male or female – to achieve this accomplishment. 
Nadia Comaneci will always be considered a legend in gymnastics. An extraordinary work ethic, drive, and self-determination, combined with exceptional skill, have made Nadia Comaneci a legend in gymnastics: "Friend, no one ever accomplishes your dreams for you, regardless of tears, fits, or any other means of manipulation. They can give you ideas and direction, but in the end, you have to do it alone. You must figure out your own destination and the best route to get there because no one else knows the way."