Anyone who has tasted dishes served from the peka at least once will agree that the aroma and flavor of meals prepared this way is a paradise for the taste buds. The dishes from under the Peka, which you will encounter in Croatia, are a traditional way of cooking in this country. The very word "Peka" evokes in the Croatian people a sense of hunger and a desire to plan an evening at a richly set table.
What is a Peka?
Peka is both the name of the meal, as well as the name of the dome-shaped cast iron lid that sits atop the pot and gives the dish its unique flavor. This method cooking a mix of foods over an open fire, using a Peka that consists of two parts – the bottom, or bowl, on which food is placed, and the unique lid.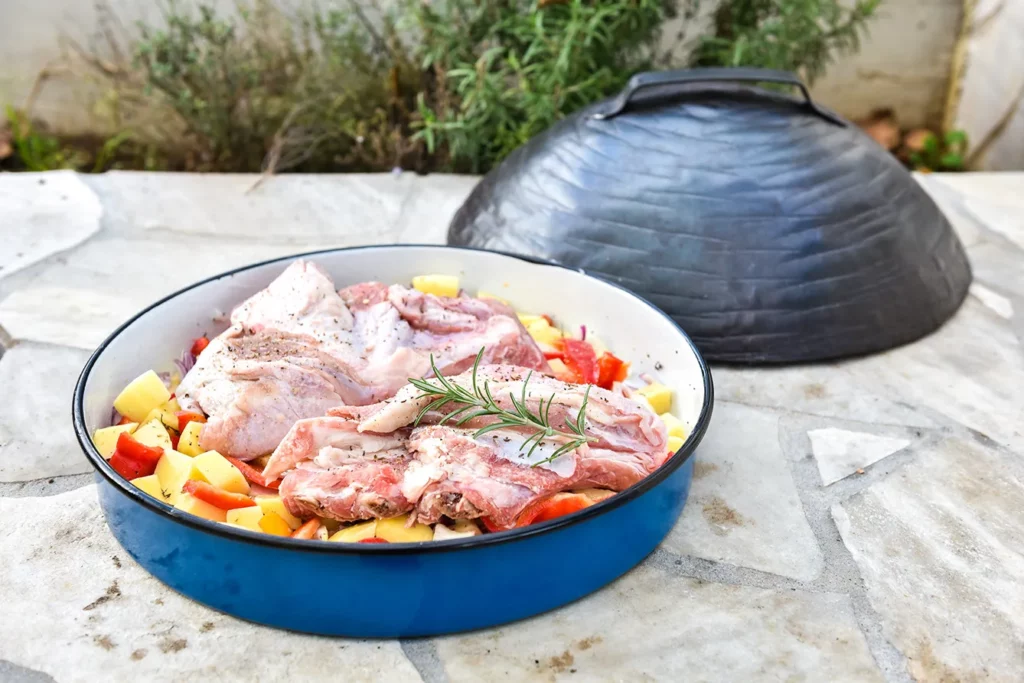 Once a Croatian picks up a Peka, you can expect a very merry culinary feast. Dishes from under the Peka are often served during holidays, family celebrations, birthdays, or evening gatherings with friends, making it the ultimate way to share food. The Peka preparation time varies from 3 to 5 hours, depending on the type of food.
An essential phase of peka preparation is the careful preparation of embers made of good wood. Such embers are needed to cover the cast iron lid. The next step is cooking the meal itself, which takes the most time. In the middle of cooking, it is necessary to open the lid and carefully stir the food so that all the flavors and the resulting sauce blend beautifully.
To make such long waits for the meal more pleasant, Croats consume wine or traditional Croatian rakija during this time. There is also no shortage of cheerful conversation, dancing, and laughter. Remember that peka is not only delicious food but also good fun, sometimes even lasting until dawn.
Think such dishes taste like they are out of the oven? Then you are sorely mistaken!
Meals prepared under a peka are highly aromatic, tender, and juicy. You can say that such dishes are roasted, boiled, and braised simultaneously. Meat prepared under the peka easily separates from the bone, and the potatoes that float in the vegetable and meat sauce have a unique flavor. This unique flavor is also influenced by spices such as rosemary, basil, thyme, and even sage. Any meal prepared under a peka tastes much better than you would serve it from a home oven. Of this, you can be sure. Many specialties of Croatian cuisine are prepared under peka. Most often, these are meat dishes, including lamb, beef, and pork, but also vegetables, potatoes, seafood, and even bread.
Peka – the queen of Croatian cuisine
In Croatia, peka is known in every region, but it is most widespread in Dalmatia. It is hard to imagine a Dalmatian family that would not have a peka in their home. Today, many restaurants in Croatia serve dishes prepared from under the peka. You can choose from both meat specialties and seafood. While in Dalmatia, I absolutely recommend you try octopus, which is a delicacy of this region. Peka has been used in Croatia for over a thousand years, and to this day, it has been passed down from generation to generation. This tradition will certainly not be lost because, as the Croats themselves say, without peka, their cuisine does not exist.
Check out our article Croatian Winemakers Fighting Italians Over Trademark Name