Introduced in 1981 to celebrate 1300 years since the founding of Bulgaria, the memorial recreates important moments of Bulgarian history. The location was chosen due to its proximity to the historic first and second capitals of 7th century Bulgaria: Pliska, and Veliki Preslav. But here is the catch. Despite honoring Bulgaria's first rulers, the monument is more known as being a celebration of socialist brutalist architecture.
Concrete Founders of the Bulgarian State Monument
The Shumen monument was created using 10 million cubic meters of concrete – enough to build an entire residential neighborhood.  While in good shape at the moment, the concrete will eventually begin to crumble. It is part of a heated debate surrounding this and other similar monuments. Keep them as they are? Renovate those worth saving because of their architectural merits? Destroy them altogether?
The 140 m long and 70 m high monument took a record 22 months to be erected, not without the contribution of countless "volunteer" workers drafted all over Bulgaria by the state, a widespread practice of supplementing free labor.
Peter Sazdov recalls his engagement with nothing but superlatives. "I was there, from pouring the foundation to completion. The emotion was unbelievable," he says. His friend agrees with him somewhat but offers a different opinion. "The figures of the Bulgarian rulers remind me more of the characters from "Transformers,"' he chimes in.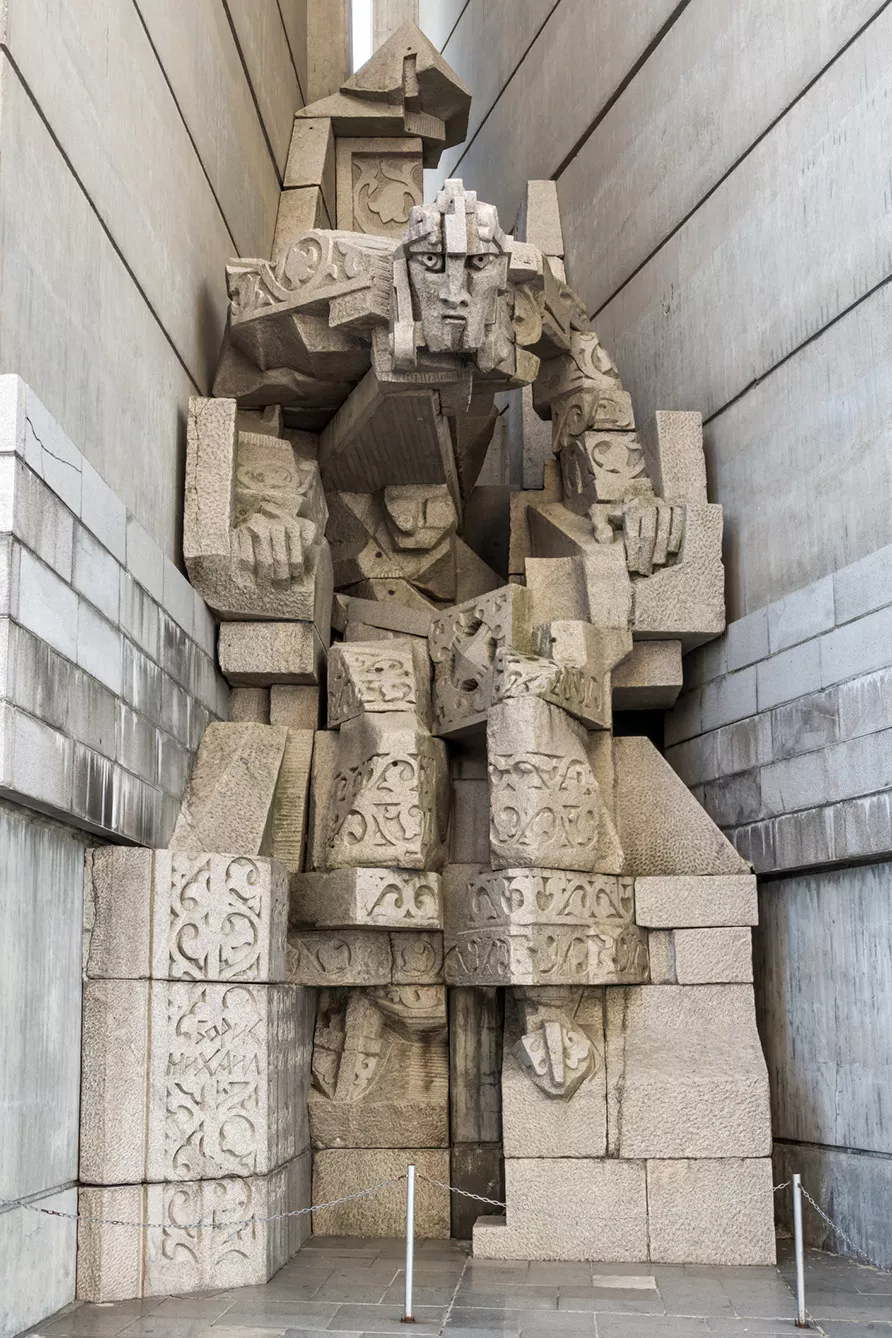 "The monument is a concrete scarecrow that will one day be torn down. If the stone blocks brought here from the first Bulgarian capitals of Pliska and Veliki Preslav can last forever, the concrete hardly has that shelf life. God forbid that in 100 years' time, this concrete mass starts crumbling down the city," one local journalist tells us, asking for anonymity not to upset fellow residents.
Not so fast. The Monument in Shumen was recently recognized by Bulgaria's Ministry of Culture as a site of "national importance," opening the door to securing more robust financing for its preservation.
Matter of aesthetics
"People's aesthetic views differ, as does the concept of beauty. It is quite normal for everyone to look at the figures from their own angle. And to disapprove of them. What is more important is what the specialists say after 40 years of existence," says Svetlana Dzhankova, former director of the Monument.
She specifies that for those in the know, the Memorial is an achievement of monumental art in the second half of the 20th century. "It means that it has its place in the life of the city and the country," Dzhankova adds.
Once an obligatory stop for many Bulgarians on specially organized trips, today the monument continues to attract visitors. In its 40 years of existence, some 2.3 million tourists have visited the memorial complex. The pandemic halted a much-appreciated flow of Israeli tourists, but numbers show interest among visitors from neighboring Romania and Turkey. For now, it seems like the Monument is not going anywhere.
Also read an article about the Bulgaria architecture.