As with most cases in this part of Europe, the story begins with the Romans somewhere in the 1st century. Coming from a culture where medicinal baths were a part of the lifestyle, they were probably soon to notice the land was rich in hot springs coming up to the surface. Sure of their medical properties (the waters are, in fact, rich in minerals), they began to benefit from their natural goodness. Another historical mark comes with the Ottomans, who also appreciated the healing (and bonding) properties of baths. Some of their constructions have survived to this day!
Hot springs: The 123 crown jewels of Budapest
In case you are wondering, we are not trying to make you count to three. One hundred and twenty-three more like it – that's the number of hot springs that can be found in Budapest. The city baths are visited annually by over 1 million people. That's a lot of company in the water. Each building is unique, with some of them being architectural marvels. Let us mention just the two most famous ones. Gellért Bath, with its Art Noveau interior, will cater even to the most sophisticated taste.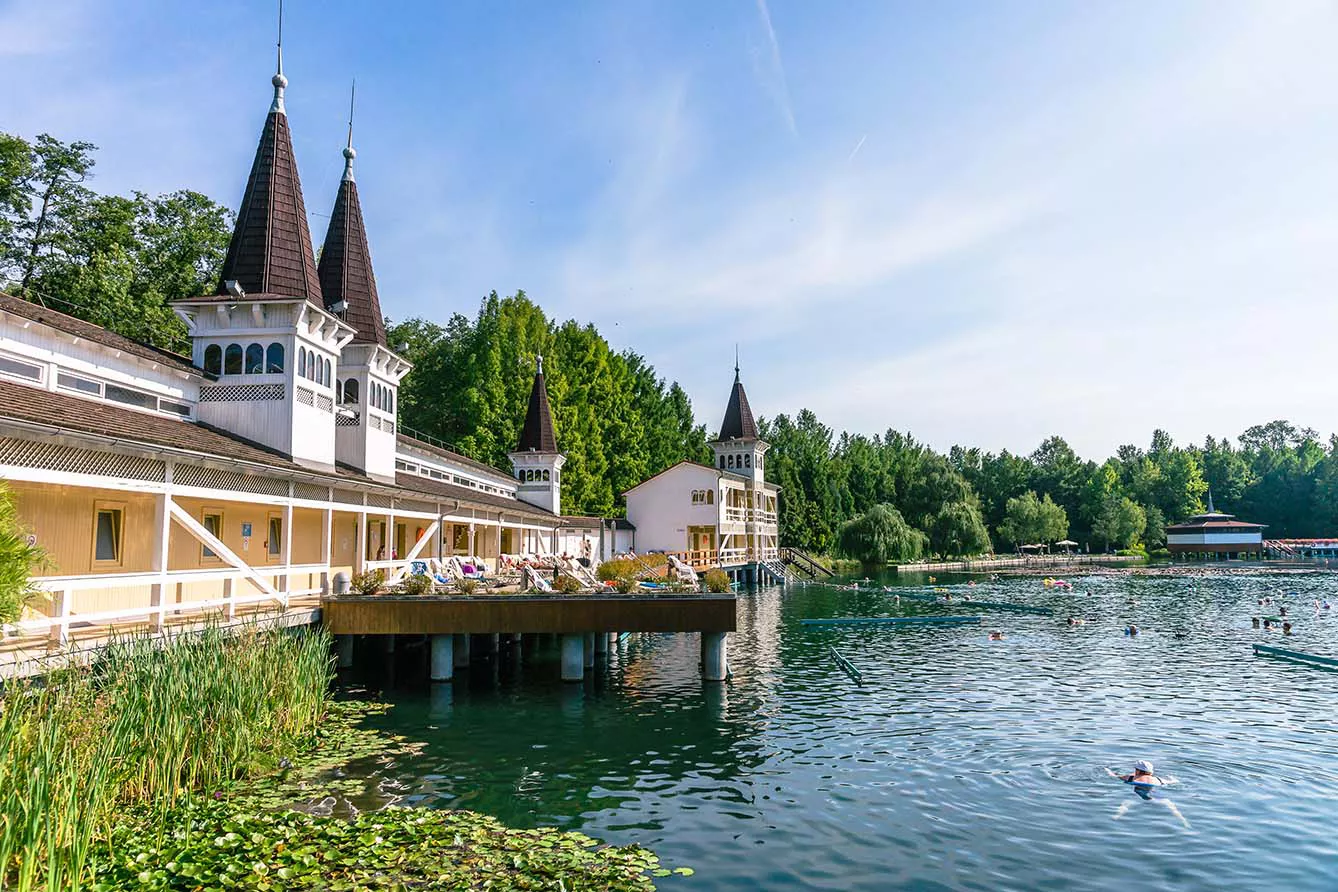 The place is also the headquarters of the International Society of Medical Hydrology. Ceramic ornaments, ornamental windows, and luxurious feel – definitely worthy of a bucket list! Széchenyi Bath is another must-stop in Budapest. Completed in 1913 and ornamented in rich neo-baroque style, the 15 indoor and three outdoor pools can handle even a large number of visitors. The water is nice and warm, reaching up to 38 degrees Celcius. The mineral composition of the water brings relief to joints and bones.
Cleopatra v 2.0 in spa
Why go for the old, boring Cleopatra-style milk baths when you can enjoy a 45-minute session in a beer spa at the Széchenyi or Lukács Bath locations? Dry ingredients of beer are added to thermal waters to take care of your body on the outside, while you can indulge yourself with a refreshing beer. Or two. In fact – as many pints as you can (re)fill. And fit in your tummy.
There are other equally exciting locations where you may find more serenity and equally beneficial waters to dunk in. The city of Miskolc is luring tourists in with a bath that was naturally carved in a cave. The experience leaves you with a one-of-a-kind feeling of being one with nature. However, human hands did introduce more modern essentials since the Ottoman times when the Miskolc waters became popular.
Be careful where you drill for oil! You may just find a scorching-hot thermal spring that might not make you the Petroleum King but will lead to the creation of one of the 10 "Royal Spas" of Europe. Such was the case with the 1960s-established Sárvár Bath. Set over an extensive area of land, it offers many pools catering to families, tourists, young, older, and those needing healing.
How much medicinal water is enough to impress?
A spring? A river? Heck, and how about an entire lake? And not just any lake but the biggest natural thermal lake in the world! Not so far from Balaton, you will find lake Hévíz. Its healing properties have been known for more than two millennia. There is even a legend saying that due to divine intervention and the lake's wondrous waters and mud, a sickly child was miraculously cured and grew strong to become the (last) Roman Emperor – the famous Flavius Theodosius.
The virgin nature of this precious treasure received its more resort-feel nature at the beginning of the 17th century that came along with the formation of a settlement nearby. These days, with over 10 acres of lake surface, the resort offers a full-on medicinal spa experience, especially focused on bringing relief to those suffering from such illnesses as rheumatological diseases, inflammatory and other joint diseases, nervous system dysfunctions, or dysfunctions of endocrinal glands, to name a few. And don't be scared of the mud people! The soil on the lake's bed is also rich in minerals and used for treatments.
No need to be poorly!
You do not need a medical excuse to come and treat yourself to exceptional medicinal spa holidays in Hungary. After all, true health comes with the balance between the spirit and the body. The unique atmosphere and serenity of less mass-visited locations will, without a doubt, bring peace to tired minds. But even if you believe you have already achieved a state of holistic wellbeing, there is no harm in giving the Hungarian thermal baths a go in order to enjoy such a state of perfect health for longer.