As early as 1910, French chemist René-Maurice Gattefossé, an advocate for lavender production in Provence, by accident had an opportunity to test the healing properties of lavender on himself. Working in his lab, Gattefossé, who has been partnering with local farmers on expanding their lavender production, was splashed with boiling essence from a flask.
Lavender oil to the rescue
The chemist's head and both hands were very badly burned. Applying knowledge from the farmers about lavender's healing properties, Gattefossé coated his skin with lavender oil. It worked. His rapid recovery from what could have been a deadly case of gangrene confirmed Gattefossé's hypothesis that lavender essential oil had antiseptic and healing properties. After that realization, the chemist embarked on a mission to share his findings with the medical world.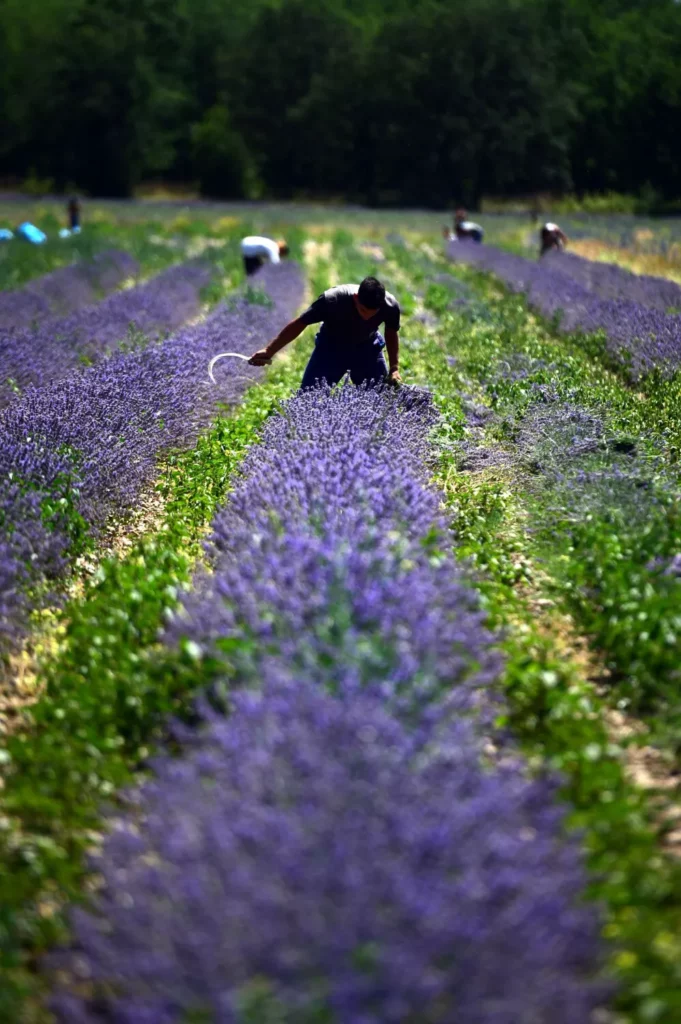 Over a century later, lavender oil is still very much in demand, with production taking place well beyond the borders of France. The blue gold, as they call lavender in Bulgaria, could be found in the country as early as the beginning of the 20th century. But by the 1970s and 80s, Bulgaria had already shifted to industrial-scale production. Today, lavender plantations spread across central, southern, and northeastern Bulgaria, and most notably in the famous Rose Valley in the south of Bulgaria, occupy some 180 sqm km of land, a five-fold increase from a decade ago, data from InteliAgro shows.
A surprising source
Due to significantly lower labor costs, Bulgarian lavender production comes at a twice lower price than its French counterpart. Hardly surprising, given that as much as 99% of Bulgaria's lavender production – 260 tons of lavender oil according to estimates by the Bulgarian National Association of Essential Oils, Perfumery, and Cosmetics – is shipped abroad, with the US accounting for 27% of the exports.
With France struggling over the last decade with significant losses due to a deadly bacterial infection, in 2012, Bulgaria emerged as the leading lavender oil producer. But production has been recovering in France and its lavender oil, regardless of its high price, remains the first choice for high-end beauty product producers. People in the know describe French lavender oil as floral and fruity.
The same goes for its Bulgarian counterpart; only it might also be less fresh and with a somewhat intense grassy top note. For fine perfumers, that might be a no. Producers in southern Bulgaria, a world-famous hub for essential oil production, believe the industry needs to up its game and focus rigorously on quality control; unfortunately, less of a thing among new growers in northeastern Bulgaria.
Growing competition on the lavender oil market
In addition to recovering French production, Bulgaria producers face competition from neighboring countries such as Greece, Romania, Moldova, and even the UK and Canada. Are we to expect more changes at the top? Gergana Andreeva, Executive Director of the Bulgarian National Association of Essential Oils, Perfumery, and Cosmetics, is adamant that Bulgaria will remain one of the leading producers of lavender oil.
"The traditions and the scientific potential are there. The varieties of planting material are of sufficient quality," Andreeva says in a conversation with 3Seas Europe. "However, the price of essential oil on the international markets has fallen significantly, in fact, reaching its lowest value. This is because there is oversupply. In the past, there have been cases where producers have given up precisely because of this low price." In 2018, Bulgarian producers received around EUR 120 per kilo of lavender oil. In 2020, the price dropped to EUR 60.
The beautiful lavender plant is also a very sensitive one. To grow, the plant needs plenty of sunshine and well-drained soil. With roots in the Mediterranean, lavender also requires temperatures of 20-30 degrees in late spring and early summer. With the world struggling with the effects of climate change, the negative effects on future lavender production seem inevitable. For example, in 2021, a significant drought led to a 50% lower yield of lavender. "This is a factor that will have its impact over time," believes Gergana Andreeva. But for now, those stunning fields are ready, both for photos and harvesting.