Deep into the mountainous and karstic land of Slovenia, there is a very special castle called Predjama. For those who are not aware of it, it would be pretty hard to find given its hidden location, far from any city or even a big village, at the end of a narrow valley, in a mountain wall. Yes, IN a wall.
Despite being well hidden, it is the largest castle of its kind in the world and the only fully preserved one in Europe. For anyone speaking Slovenian, the name itself reveals what is so special about the castle, "pred" meaning in front and "jama" meaning cave. Well over 800 years old, it shows exceptional building skills of the Middle Ages that we often deem primitive and regressive. This masterpiece proves quite the opposite.
The 123m tall natural steep wall with a cave opening was chosen as the spot for an unconquerable castle. It was first mentioned in 1274 when it was built by the abbots of Aquileia and given a Gothic appearance. It was later rebuilt by the new owners, the Luegg family, the most famous member of which was undoubtedly the 15th-century knight Erazem of Predjama, about whom many legends still circulate today.
Predjama's rogue knight
The legend goes that Erazem was a rogue knight who rebelled against the emperor by siding with Hungarian King Matthias Corvinus. From the extreme safety of his home, he would regularly undertake robbery expeditions in the region, terrorizing locals and merchants alike. He was eventually chased by the empire's army to the besieged castle, where he was able to defend it for over a year. This was possible because of a secret passage that ran through the cave from the inner side of the castle, where they were able to get supplies. Eventually, he was infamously assonated by a canon shot while on the toilet after a traitorous servant gave a signal to the army outside.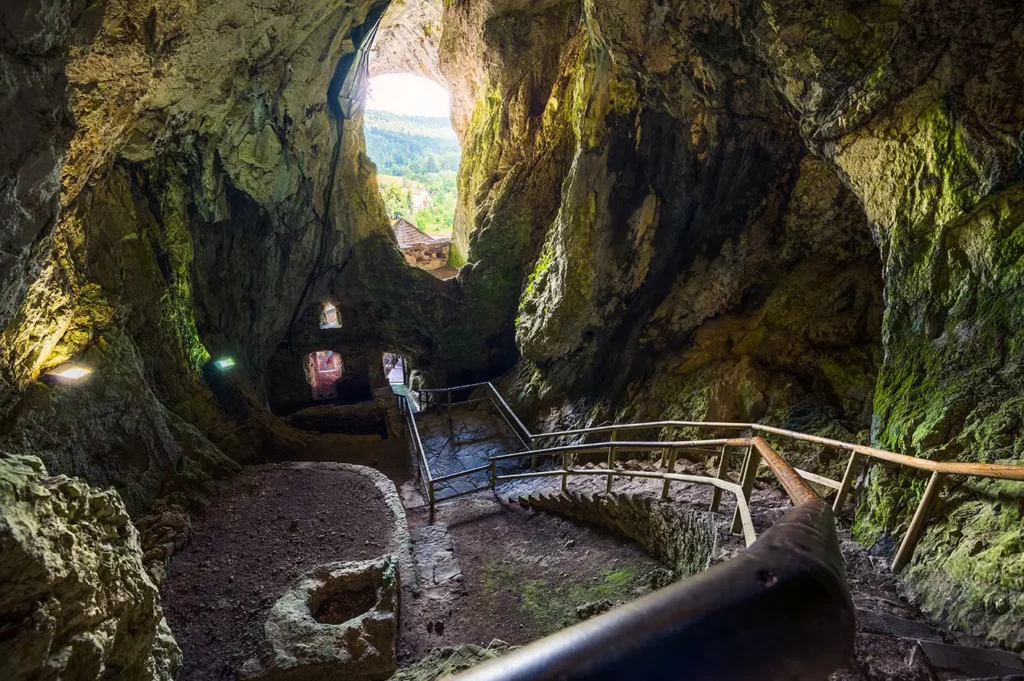 Today, no robber knights can be found on-site, save for a few days in August, when the famous "Medieval days" are organized by the castle, featuring a knight camp, a sword-fighting tournament, alongside many other workshops and re-enactments (especially Erazem's story) which temporally revive the medieval heritage of the place. It was long ago turned into a historical artifact and museum, and these days, anyone can visit it as a museum. It has one of the best medieval exhibitions in the country, including a weaponry collection and a stunning view from the castle windows.
It also, quite unsurprisingly, found its way into modern pop culture and has been a filming location many times, including for the movie "Armor of God" with Jackie Chan. It impressed "Game of Thrones" author George R.R. Martin, and a Discovery Chanel crew even found ghosts there. So, if the castle were in France, Italy, or Spain, it would probably be world-famous. But in little Slovenia, it remains a hidden gem, an undoubtful wonder of the medieval world and conserving such characteristics, unspoiled by tourists and preserving the mystery and magic of those very different times.