"I was torn; my goals were different before. I met educated people, not only Roma, and I decided that I could do it, too. I chose social pedagogy. I was ready to meet people whose lives didn't go the way they hoped for, and I would be the person to guide and motivate them." At 40, Angel Angelov is the newly hired educational mediator at the Vocational School of Agriculture in Shumen in Northeast Bulgaria.
His new job came later in life when he decided to pursue a university degree. "I was in my element because in my life I have come across many underprivileged people, from orphans, street children to elderly, abandoned, disabled, addicts, or now, refugees," Angelov tells us.
10 percent of Romani in Bulgaria
According to 2013 data from the European Commission, the Romani in Bulgaria number 750,000, constituting over 10% of the population. The 2011 national census showed that most of the Roma – 66% – are young children and adults up to 29 years old, while the same group constitutes 37% of ethnic Bulgarians. This puts the issue of education of Bulgaria's most vulnerable and discriminated against population in the spotlight.
The Trust for Social Achievement numbers show that improvements are also being made on a secondary education level. Over the last studied nine years, 34.5% of the Romani students graduated from high school, while in the previously studied period, the number stood at 22.8%. With the base expanding, the number of those pursuing a university degree is expected to grow.
In the last three years alone, seven Roma students have graduated from the prestigious American University in Bulgaria with majors in journalism, information technology, political science, and business, according to data from the Amalipe Center for Interethnic Dialogue and Tolerance, an NGO working on education, health care, social services, and advocacy on behalf of the Romani community. Roma graduates, Amalipe notes, are initially being met with reservation at the workplace, but a change of attitude eventually follows.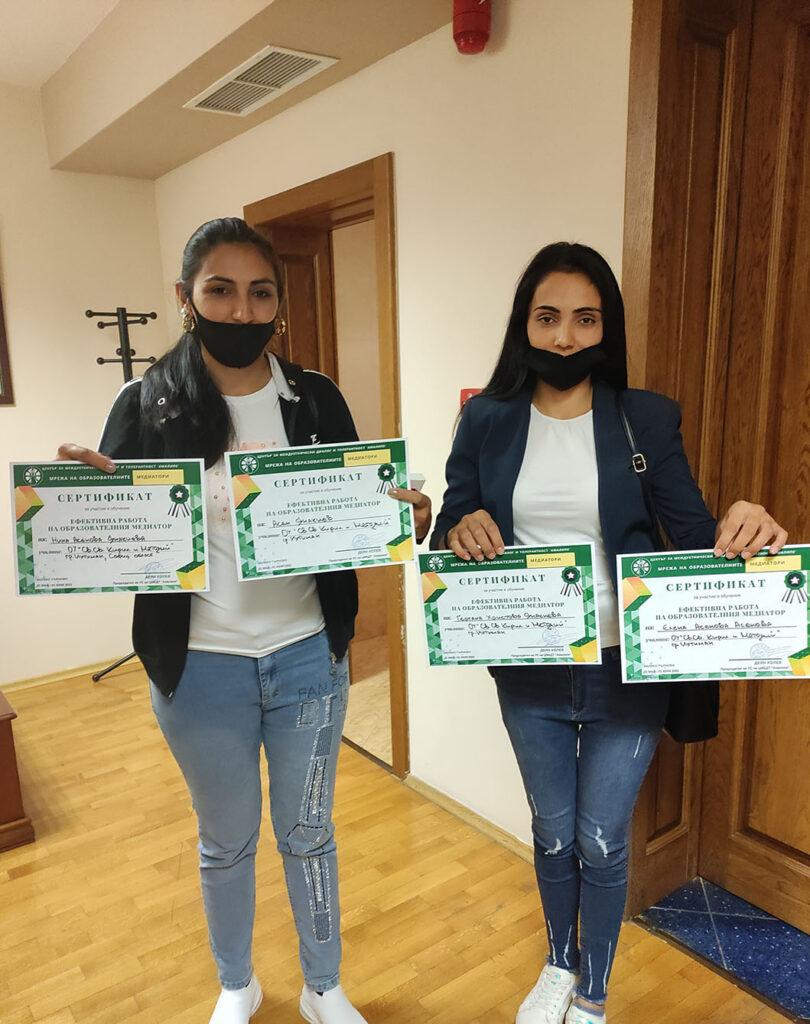 "I'm glad that our boys are interested in studying pedagogy and social services. When they graduate, we see them becoming teachers or helping their communities by working in welfare services," shares Silvia Stancheva, Amalipe's Regional Coordinator for Northeast Bulgaria. Stancheva's organization works with close to 300 schools all over Bulgaria.
Romani students in Bulgaria
Educational mediators from the Romani community, such as Angel Angelov, work to prevent children from dropping out of school. The shared background is an advantage for mediators talking to parents about the importance of keeping their children at school. It is also beneficial for those Roma students considering working in the police force. Looking to fight discrimination among its ranks, cities with large Roma neighborhoods such as Plovdiv and Sliven are looking for young Roma policemen to join their forces.
Challenges persist. In the municipality of Varbitsa, also in northeastern Bulgaria, four young women were admitted to study at the University of Shumen. Unfortunately, they all quit under pressure from husbands and mothers-in-law who saw their place not at the university but at home, tending to their husbands.
Examples like this only prove how essential the educational mediation program in Bulgaria is. According to numbers provided by Bulgaria's Ministry of Education, in the school year 2021-2022, some 903 trained mediators have been hired in schools across the country.
Quota for Roma students
"We have students who go to the military, study to be programmers or medical physicists," notes Galina Sakarova, principal of the Trayko Simeonov Secondary School in Shumen, which serves the most diverse student body in the city. Her school is the only one in Bulgaria running an early marriage prevention program. "It directly asks the question, "Either you stay in the neighborhood, or you get an education and grow," Sakarova adds.
Roma activists are enabling more young people to study by taking advantage of available grants. "In recent years, together with the Open Society Foundations, we implemented a program for Romani medical students. One hundred fifty students have gone through this program and are now working as doctors," says Teodora Krumova, Amalipe's Program Director.
This is major. Unlike neighboring Romania and North Macedonia, Bulgaria does not have a quota for Roma students, and such students are accepted on an equal basis with all other students. "Through education, I have rediscovered myself. I've gained new qualities and skills," Angel Angelov, the educational mediator, tells us with pride.
Committed to his mission, he was honored by the Ministry of Education for strengthening the network of educational mediators in Bulgaria.