After a 2-year hiatus due to coronavirus, the Wife Carrying World Championships is back this summer in Sonkajärvi, Finland, for its 25th installation. Now the world waits to see if the reigning champs from Lithuania will make a play to recapture their title, or if perhaps a pair from once-world dominant Estonia can make a comeback.
Wife Carrying: the Estonian school
The contest involves completing a 253.5-meter obstacle course while carrying your 'wife' over your shoulders. No worries if you don't actually have a wife – a friend's wife, stranger's wife, or even a random woman off the street will do – as long as she's over 17 years old. The 'wife' must weigh at least 49 kilograms (108 pounds), or if not, she has to carry a weighted rucksack for the total weight to reach the minimum.
There are various types of carrying for an efficient race experience. Still, the most popular technique is "Estonian-style," named after the approach taken by an Estonian couple who dominated the World Championships for an entire decade in the late 1990 and early 2000s. Their method, which involves the woman hanging down the man's back with legs out front, is widely considered the most efficient as it's the most streamlined position and leaves the man's arms free for the sprint.
The competition, which began in 1992, has its roots in the legend of Ronkainen the Robber — a no-nonsense gang leader who hazed potential members by making them carry heavy sacks or live pigs over rocky, boulder-ridden terrain with water-filled brooks. Another version of the legend goes that he and his cronies had a habit of stealing women from neighboring villages. Whether they used piggyback or Estonian-style is still up for debate.
A minute of fun
As fun as the contest is, in athletic terms, it's truly no joke. During the 253.5-meter obstacle course, competitors wade through a neck-deep pool of water, climb hurdles, and run through pits of sand. In 2019, Lithuania power couple Vytautas Kirkliauskas and his wife Neringa Kirkliauskienė overcame the difficult track in 1 minute and 6.72 seconds.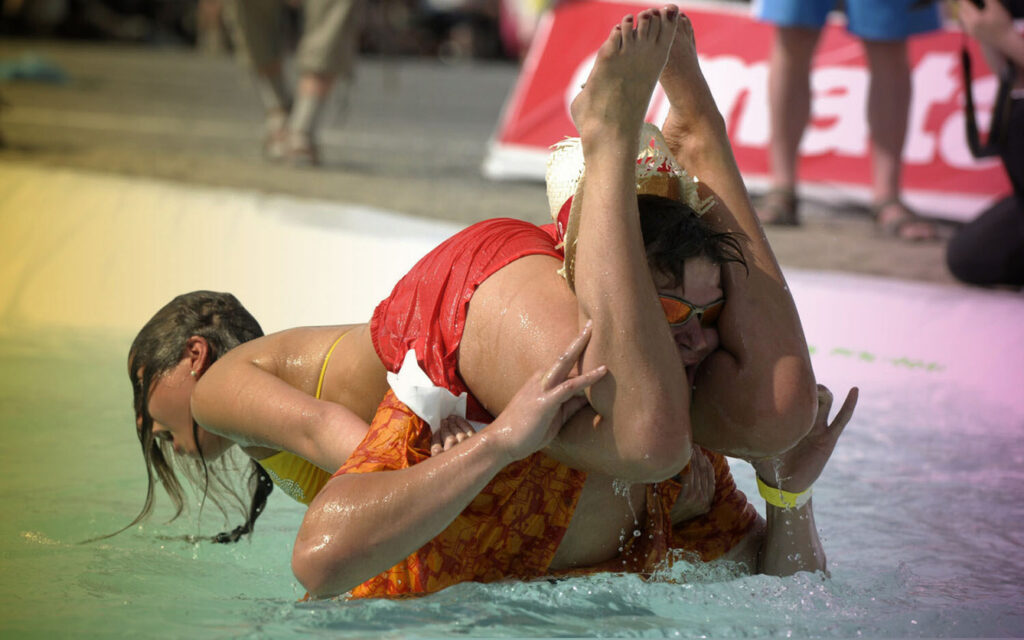 Two-time champion Kirkliauskas told the Lithuania Tribune that he trained year-round to prepare for his wins, following a regimen that involved daily runs and a lot of strength training. When asked whether it's more difficult for the husband or the wife, he noted, "It is a real challenge for the husband because upon completing the track, you are completely exhausted. [However] it is no less of a challenge for the wife because you have to hang with your head hanging down, furthermore, for a time she is submerged when you enter the pool. Thus, the victory is a mutual accomplishment."
Call it what you will – a fun competition, a challenging obstacle course – or even a unique take on couples therapy. Whatever the case, we'll raise a beer to this event!