For all of you fans of Polish cuisine out there: tempting as it may be to assume, Polish cuisine has far more to offer than just pierogi. Among Central and European foods, some treasures harken back to the time even before the American "invention" of the potato colonized the Old World. (Yes, although hard to believe, there was Polish cuisine before the potato.) And one of those treasures is rosół (aka broth). 
Rosół: the (not so) Italian stuff
There is a lot to say about the concept of rosół. Technically it's a broth based on the "Italian stuff" vegetables (Polish: włoszczyzna). It often also includes some sort of meat boiled until it's tender, though this is optional. In fact, the word "rosół" means to de-salt: back before the advent of the refrigerator when meat needed to be preserved in salt, you'd boil it in water in order to prepare it – hence the name.  
Now it's mainly considered a standalone dish, a soup eaten with homemade kluski, or noodles. In restaurants, it serves as a base or aid in cooking. It is also a convenient soup base – add tomato puree, and you have tomato soup, the most obvious example.
And the simplest yet most reliable rosół recipe is to: fill a large (or even huge) pot with water, add the "włoszczyzna," some beef and/or poultry meat (game as well can make delicacy), whole peppercorns, bay leaves, and allspice (called in Polish "the English herb"), and boil, boil, boil. Some argue over whether – and how – to add onion, but arguably the best answer is onion charred over an open flame, black outside, raw inside, giving rosół a unique taste and deep color. 
What is włoszczyzna then, the staple rosół ingredient? A literal translation would be "something Italian" or "Italian stuff," as if it were hard to describe. Yet it's not: "the Italian stuff" is a club with precisely four members: carrot, parsley root, celery root, and leeks. Some vegetable vendors are more generous, extending the category to include parsley greens and/or cabbage.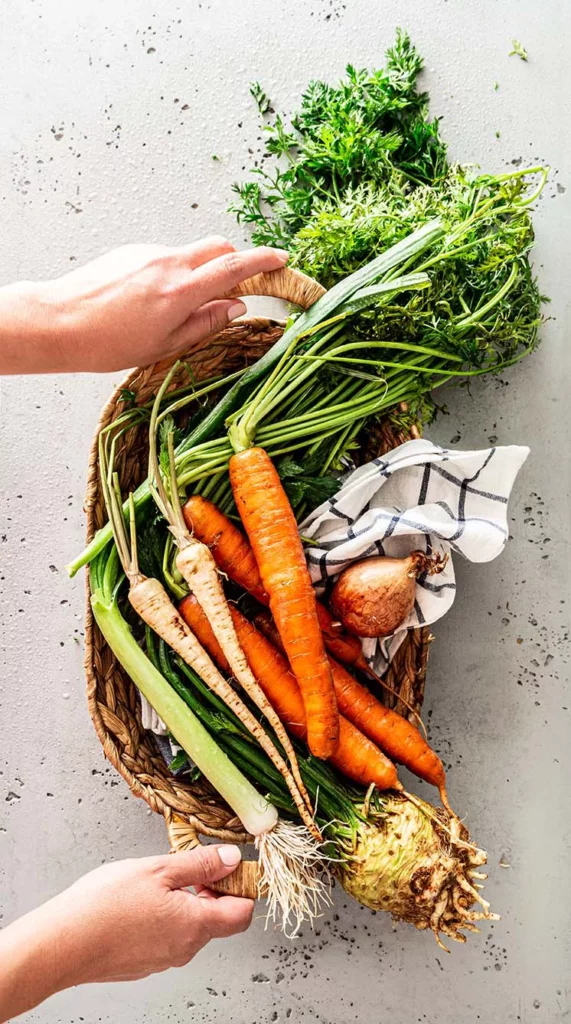 You can obviously buy them all separately. It's no secret that Poles love leek in their vegetable salad, and don't get us started on the ubiquitous carrot.
But more often than not, you just ask a clerk for "włoszczyzna," and you get a nice rosół starter pack with a good proportion of one vegetable to the others (say, three large carrots, two parsley roots, one decent leek, and a quarter of a celery root). Even the largest supermarkets have adapted to the tradition, sacrificing their sacred shelf space to sell "Italian stuff" vegetables both separately and in packages.
Italian cuisine, Polish-style
It's practically certain that Italians have no idea why this particular product is named after them. It goes back to the first part of the 16th century when an Italian princess named Bona, from the wealthy Milanese Sforza family, became Queen of Poland upon her marriage to Polish King Sigismund the Old. (As an aside, the "Old" moniker was well-deserved as the widower king was indeed 27 years older than his bride.)
It was the height of the Italian Renaissance, and Princess Bona was thoroughly educated and, literally, the epitome of culture and fashion. She quickly accelerated the introduction of Italian manners to Poland, foodways being among them. As the 16th century was a time of American exploration, some exotic fruits and vegetables even made it to Poland at the time. And in Poland, they remained, even today, still associated with Italy.
Poles still remember "the queen who brought vegetables to Poland," and the name of this tasty bouquet of broth vegetables became the "Italian stuff" – although today's popular rosół recipe may not be the most Italian-Renaissance-sophisticated concoction of the era.