Cabbage somehow secured its place as one of the vegetables which can be found on the tables of many Central European countries. Pickled, fresh, and boiled, it is one of the flavors which adds to the foods of Central Europeans. Especially during wintertime, cabbage dishes and side dishes take over the scene and prove that cabbage is not a boring, flat-flavored vegetable many people take it for. So which cabbage specialties should you taste when you arrive in Central Europe?
Poland's hunter stew
The most iconic dish of Polish cuisine – bigos (also known as hunter's stew) is responsible for that cabbagy smell present in the winter in many bistros and Polish houses. It is not meant to be a negative or stereotypical comment. It is rather an observation quite a few foreigners tend to make when spending time in Poland during cold months for the first time. Many Poles love bigos, and as the fresh variety of fruit and veg diminishes for the winter, bigos – prepared from pickled cabbage – dominates the food choices provided on Christmas fares and at food joints. Rightly so – it is filling, tasty and healthy for the gut. You can read more about its very long history in one of our other articles.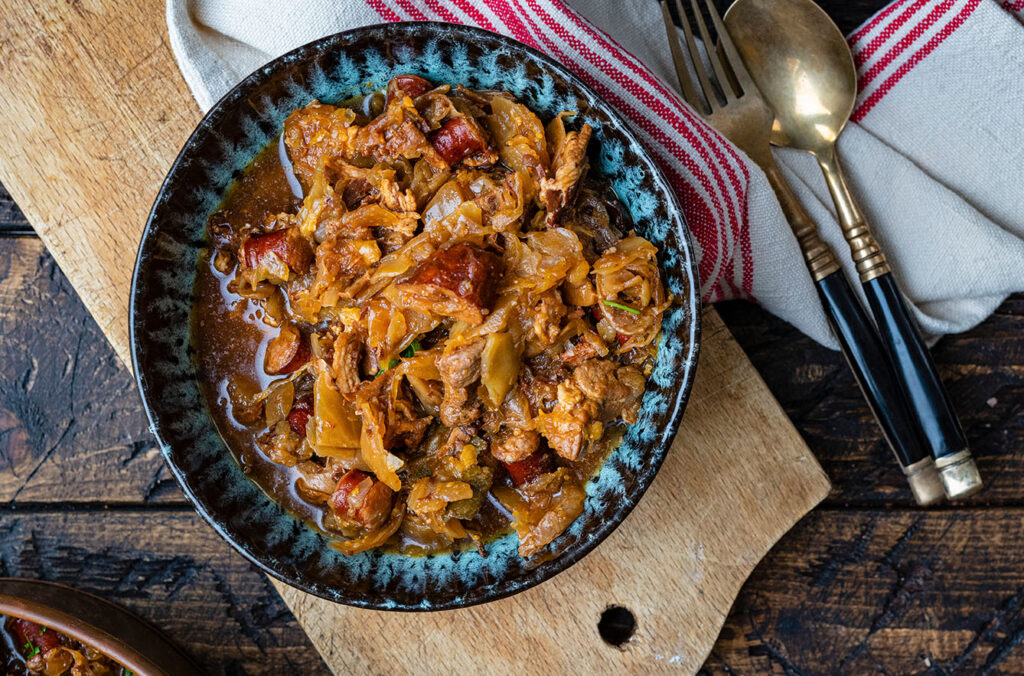 Austria's sauerkraut
The word 'sauerkraut' found its way into English from German the same way crepes did from French. Why should this fact be surprising? Becue the roots of a fermented cabbage dish stem from… China! Yes, the Chinese first started fermenting this nutritious vegetable in rice wine, and they did so over 2000 years ago! Europeans warmed to the idea sometime in the 16th century. From there, it made its way to America, brought mostly by German immigrants.
In Central Europe, sauerkraut is traditionally served in Austria. Surprisingly, Austria can be less credited for the dish even though it is equally important in Austrian cuisine and similar in flavor to the German version. In Austria, cooked sauerkraut is often prepared with juniper berries with the addition of apples and wine. Find it served on Christmas markets and during Saint Martin's fare. It is said to be declining in popularity but honestly? It doesn't seem so at first glance. The benefits to the gut with all the probiotic bacteria and vitamins should make it a compulsory item on the menu of anyone who looks after their immunity and health.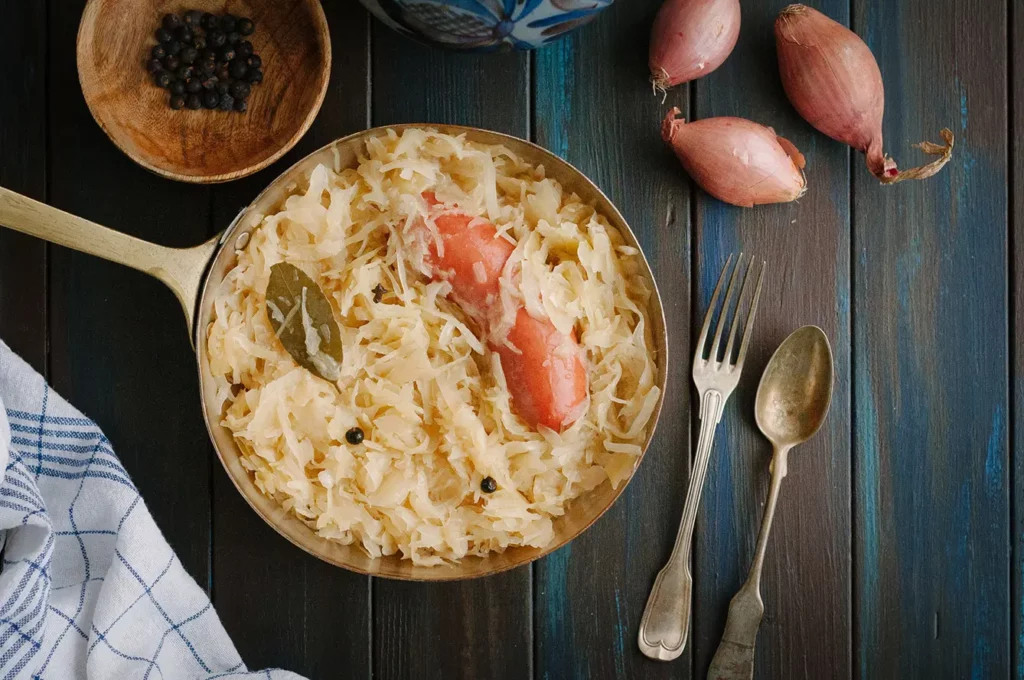 Red cabbage salad and coleslaw
The two most famous fresh versions of cabbage are served in the form of side salads of red cabbage (sometimes with raisins) and coleslaw. This simple snack of shredded cabbage in vinegar, often accompanied by carrot and onion, was known already in the Roman Empire, although its name is derived from Dutch. These technicalities don't change the fact that coleslaw salad or fried cabbage salad is an option proposed with national twists in virtually all Central-European food joints, for example, in Poland, Austria, and Hungary. Interestingly, Hungarians are apparently not big on boiled cabbage, and they prefer to fry it or serve it raw, hence the popularity of coleslaw in Hungary.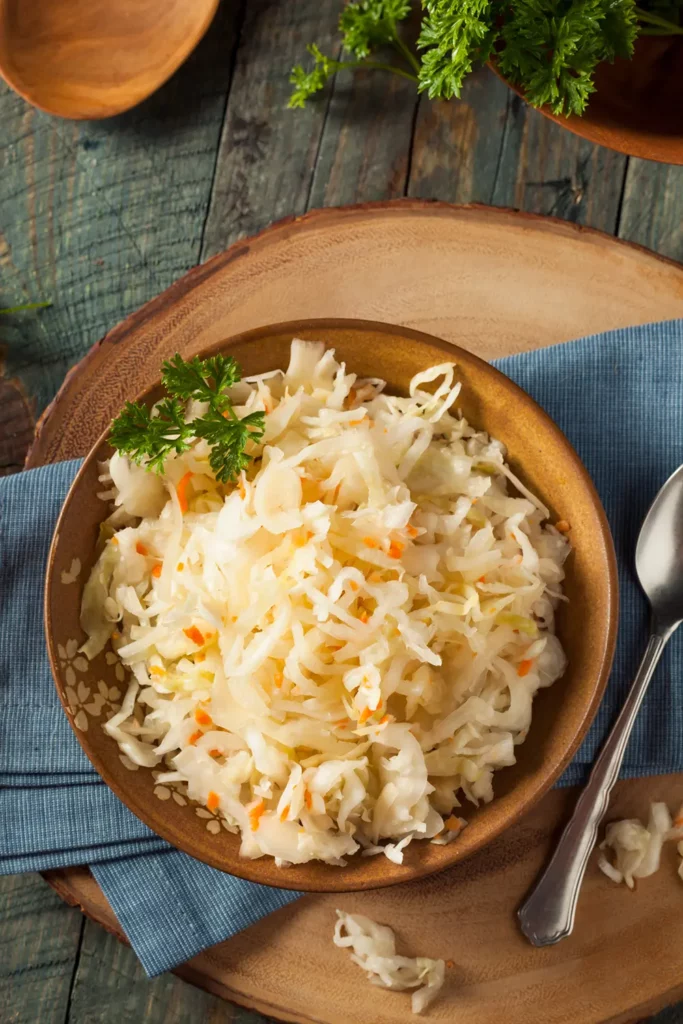 A variation on stuffed grape leaves
Not that many vines in the area? Not a problem! Northern Central Europeans turned to their beloved veg to create their own variety of stuffed vine leaves. They use cabbage leaves for the same purpose and stuff them with meat mixed with rice or grain. In Poland, Czechia, and Slovakia, this dish is known as the pigeons [holubce in Chech and Slovak, and gołąbki in Polish]. The name probably originated from a French dish of stuffed pigeons (the actual birds ) wrapped in cabbage leaves to prevent drying when baked. Skip the meat but keep the cabbage, and voilà! You have a dish so tasty that it even has its vegetarian versions. The list of examples of how cabbage is used in Central European cuisines is much longer. However, the above dishes best represent the position of cabbage in the region.
Although these dishes are especially revered during winter, they are eaten over the remaining warm seasons. Fresh cabbage can be purchased all year round, so it is extremely hard to say goodbye to this versatile ingredient. After all, the queen cannot simply be replaced with any other leafy green.