The second production's budget was nothing compared to the American "Cleopatra" (the price tag for its creation amounted to USD 44 million). The country it came out from at the time was also rather anonymous – locked behind the Iron Curtain and dominated by Soviet influence. Poland, to many, was not the country it had been before the war. And yet it was indeed Poles who released their own Egyptian epic, "Pharaoh," in 1966.
An instant classic
Why even mention it, you may ask? Polish cinematography has many fine representatives who enjoy international fame, such as Wojciech Jerzy Has, Andrzej Żuławski, Andrzej Wajda, Krzysztof Kieślowski, and Roman Polański. People interested in cinema beyond popular blockbusters are definitely familiar with some of their works. Sadly, "Pharaoh" by Jerzy Kawalerowicz seems to be slowly becoming less commonly known among the masses. Unjustly so. "Pharaoh" was a Polish super-production filmed in the sad reality of Soviet occupation and imposed communism. Money was scarce for everything.
Yet, Kawalerowicz and his crew managed to create a film that became an instant classic, as it is cinema at its finest. It is a true banquet for connoisseurs who know what it means to tell a story with color, picture, and dialogue – rather than with endless special effects, noise, and commotion. After its release, Kawalerowicz received propositions from abroad but did not accept them, focusing on making his mark on domestic cinema.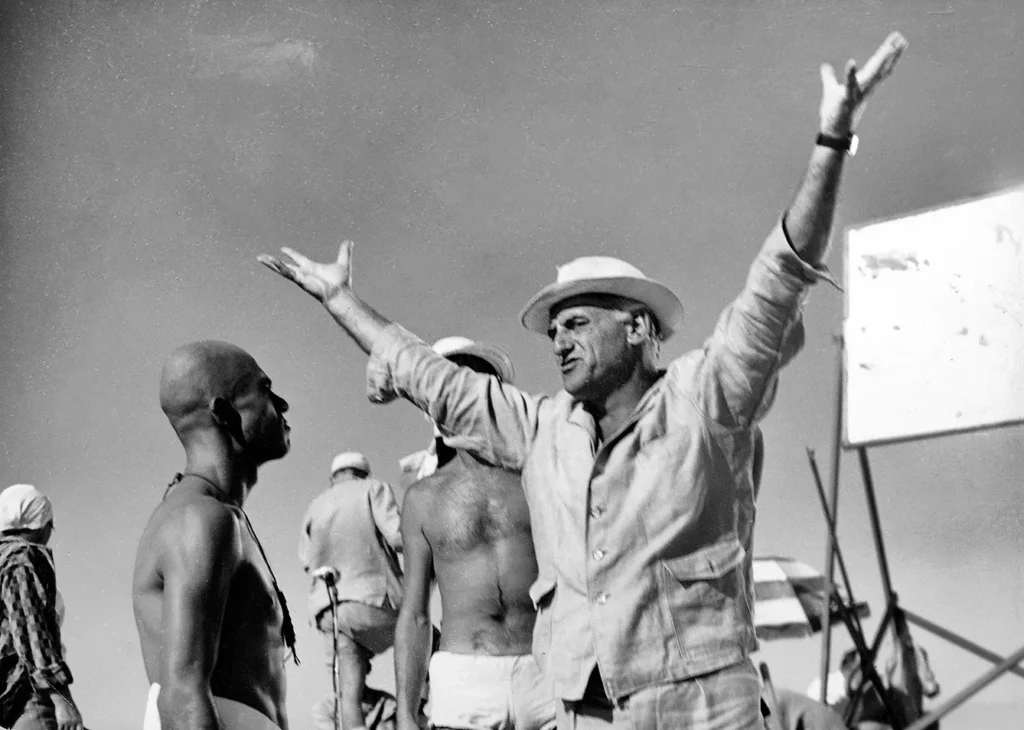 Special freezers and a complete freshman
And when you think about what lengths the crew went to produce this 3-hour-long movie and the risks the director took, you must at least appreciate their effort. Let us remind you again that the movie was filmed between 1962 and 1965 in a grim reality of deep communism. Regular people could not travel outside their country without special permission, and many struggled to make ends meet. People, in general, were rather poor and trapped in their towns and villages, with little hope of the circumstances changing anytime soon.
Not just that, but the influence of Western culture was also limited. And then, suddenly, a Polish director and Polish actors offer them a taste of something completely out of their cultural garden. "Pharaoh" was filmed in many locations abroad to keep the setting realistic. Technology was not what it is today, so it would have been impossible to recreate the color of Egyptian sands, the blue shade of the sky, and the intensity of the sun. The crew, therefore, obtained permission and, for the reality of Communist Poland, hefty governmental funding and left abroad. They shot most of the scenes in Egypt (Cairo and Giza), Bukhara (today's Uzbekistan), some in Africa, and a few in Poland's Błędowska Desert.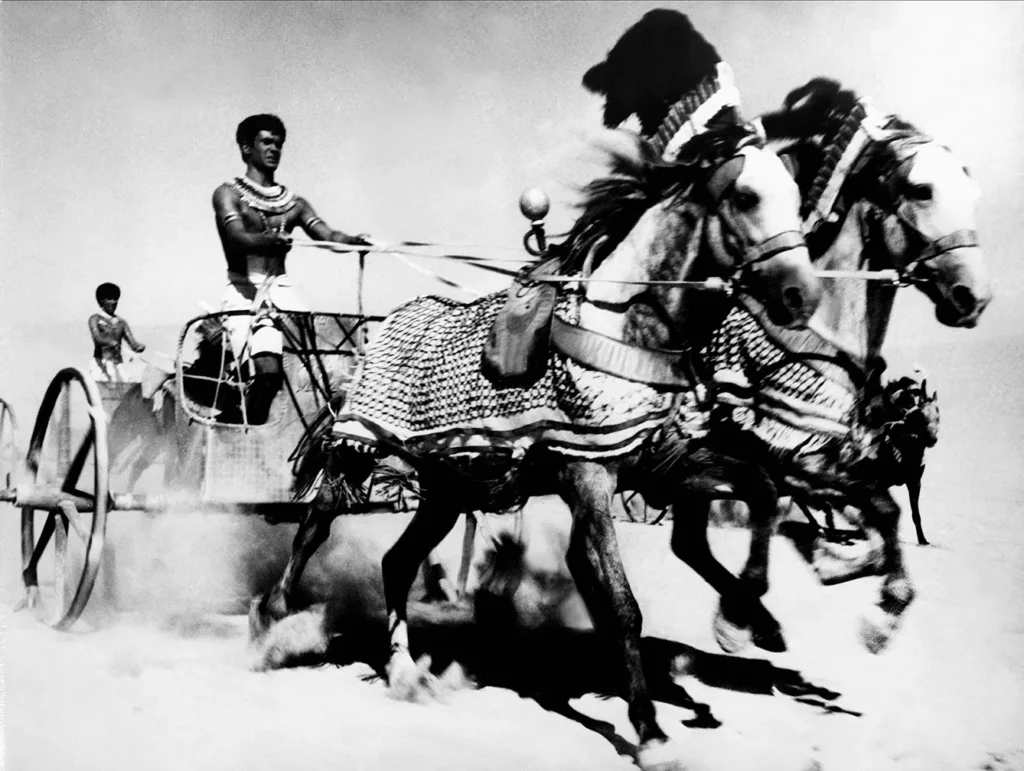 There, in the sandy lands, in temperatures on the set sometimes reaching circa 60 degrees Celcius (140 Fahrenheit), they had to protect the film rolls from melting by building special storage freezers (again, we are talking 1960s and limited budget in comparison to American productions). In those conditions, the actors and crew members are said to have had 10,000 bottles of mineral water delivered daily to the set. Apart from the heat, they also had to be vigilant of vipers and venomous spiders that would launch themselves at them from a distance. And to think you take all those risks and cast a complete freshman in the leading role!
The main protagonist, Ramesses XIII, was played by Jerzy Zelnik – who, at the time, was a freshman in his first year of studies at the Theatrical Academy. He was a great choice, as apart from his fit appearance, Zelnik managed to carry the weight of his character. You cannot tell these were, in fact, his first steps in filmmaking (though some commentators point out this was a curse in disguise as he struggled to free his image from being labeled by "Pharaoh" later in his career).
Props and experts
We said all that, and we didn't even mention the props that had to be produced for the film! And there are some staggering numbers here. First, let us explain why they look so professional and truly bring back the long-lost world to the screen. The entire production was prepared in cooperation with numerous experts in the field of Egyptology. Among them were the internationally renowned professor Kazimierz Michałowski and Shady Abdel Salem – an expert on ancient Egyptian art.
It is interesting to note that he also collaborated with the producers of the American 1963 "Cleopatra." With such expert support, craftsmen produced 3000 wigs and 3000 pairs of shoes, nearly 9000 items of weapons, and 60 complete robes for the Egyptian priests. The crew also reconstructed an Egyptian vessel from over 4000 years ago and created an artificial island on the Kirsjaty Lake for the purposes of the scenes shot in Poland. One look at the screens from the film is enough to see all that effort did not go to waste, and the settings are breathtaking.
Why Ramesses, and who came up with the idea?
Some may be let down to hear that "Pharaoh" was not inspired by the great American Cleopatra production. In fact, the film is an adaptation of a 1895 novel written by one of the greatest turn-of-the-century Polish writers – Bolesław Prus. He did not usually write historical novels. However, towards the end of his life, he changed his mind and wrote "The Pharaoh." There he speaks of the conflict between the old and the new, youth desires, rebellion against the old order, and – not to overdo on happy endings – eventually falling to your weaknesses and faults of character. This is what makes the plot engaging and timeless. "Pharaoh" was nominated for an Academy Award for "Best Non-English Language Film." However, it lost out to a French production, "A Man and a Woman," directed by Claude Lelouch.
Nevertheless, the nomination testifies to its warm reception abroad. Critics acclaimed it as the best film set in ancient Egypt of the time. More recently, in 2014, "Pharaoh" was chosen by Martin Scorsese as one of the finest examples of Polish cinematography during his cycle known as "Martin Scorsese Presents: Masterpieces of Polish Cinema."
So, if you don't want to take our word for it (and please – don't!), listen to an icon of American cinema and give "Pharaoh" a chance to take you to the land and times buried under endless layers of the Egyptian sand.