In early 2021, the news broke out that Saudi Arabia had invested USD 500 billion in a linear city, "the Line," or Neom. Energetically sustainable, green, and smart, the city, now under construction, is supposed to be 170 kilometers long – at the same time, it gives its inhabitants everything they need within a 20-minute commute.
How? By introducing the idea of a linear city, basically a strip of settlements, modular if you will. But the idea of such urbanization is not connected with the Middle Eastern maniera grandiose, nor is it new in urban planning, with a notable example being Oskar Hansen, a Polish-Norwegian architect who wanted to redesign Poland. Alas, his ideas mostly remain on blueprints that never came to fruition, with four linear cities planned from the southern mountainside to the seaside in the north.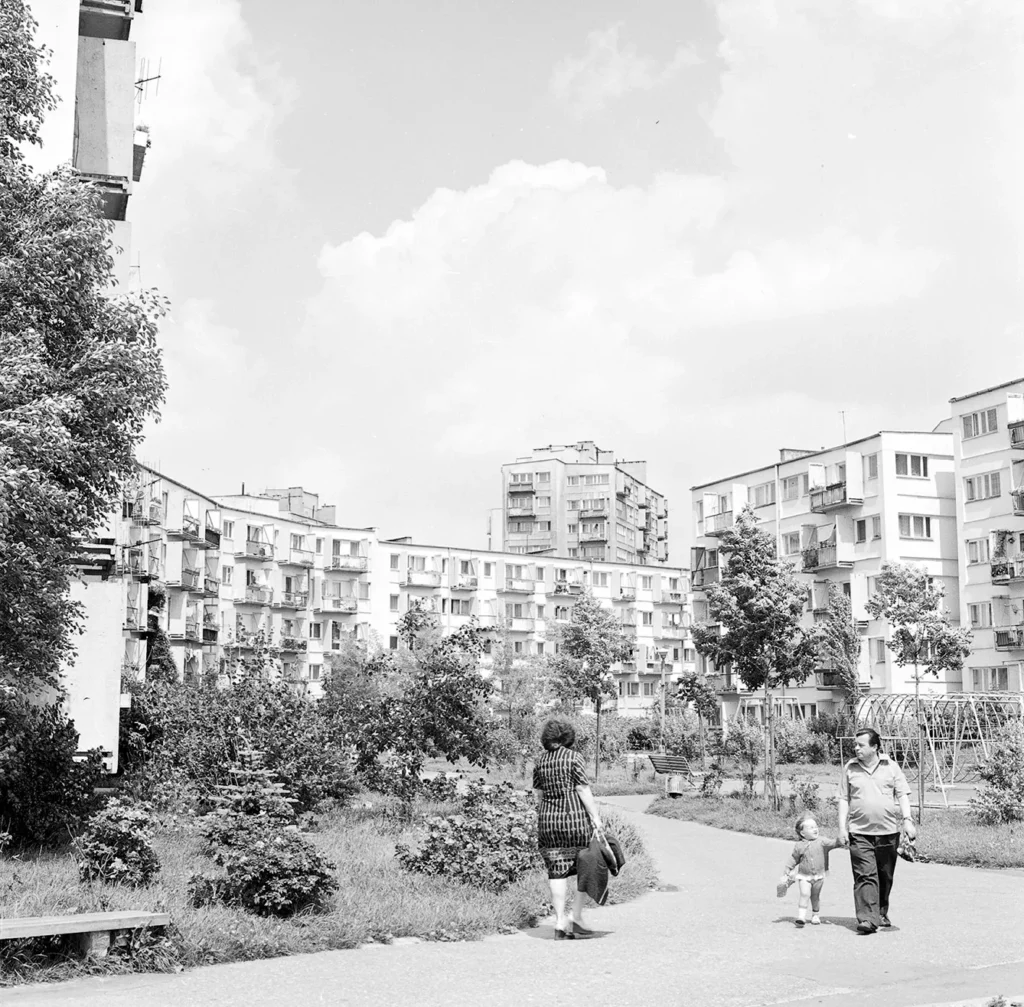 Poland to start from scratch
In the mid-20th century, the discussion on dense housing became of primary concern worldwide. At the time, Poland was in a very unique condition. Almost entirely destroyed during World War Two, with power seized by the communists, who were ready to force equality upon the society, it could be planned almost from scratch, disregarding architectural traditions of bygone eras.
For some period, rules known as Socialist Realism were forced upon artists and architects. These monuments are still in many cities of the country and the rest of Central Europe. But after Stalin's death, the ideals were dropped, and proper Modernism started resurfacing – with its heritage of the ideals of dense neighborhoods and the fifteen-minute city, which is an urban planning concept where almost all necessities can be found within a 15-minute walk or bike ride from any point in the city. As architects and urban planners followed the rules with something that – for lack of a better word – we can call common sense, there were visionaries at their drawing boards constructing a more radical approach. Oskar Hansen was among them.
Oskar Hansen, a Polish urban planning visionary
Born in 1922 in Helsinki, Finland, to a Russian mother and a Polish-Norwegian father, Hansen strongly connected with Poland and its culture. As a 20-year-old, he fought in the Home Army (Poland's WWII insurgency) against German Nazis, and, having graduated in architecture (including practices in Paris, where he met Le Corbusier, the father of modernist architecture himself), he launched his career in Poland.
Compared to the archive of his designs, only a few of his works were completed and exist in their proper form today. One of them, Warsaw's Przyczółek Grochowski, is a sign of Oskar Hansen's unusual thinking. Commissioned by the state to build a dense neighborhood for several thousand people, he was given only a few lift shafts. He decided not to build any flat without the access to the elevator. This is how his radical idea appeared – 23 7-story buildings connected by a system of galleries. The whole construction is 1.5 kilometers long and meanders through a square parcel, creating a labyrinth of paths. It basically entails thousands of people living closely together, and the whole neighborhood is close to the preschool, school, shops, and services.
Linear thinking
Projects such as this made pushed Hansen to explore further. After Przyczółek Grochowski was developed in the late 1960s, Hansen entertained the idea of a linear city, which he called a Linear Continual System (Linearny System Ciągły). Starting with the (completed) Juliusz Słowacki Neighborhood in Lublin in Eastern Poland, in his mind, Hansen had scaled up the concept to a country-wide level. He came up with the Amber Route, exporting goods from the Baltic shore to Southern Europe and the Middle East. The idea, not unlike today's Three Seas Initiative plans, included industrial as well as living north-south corridors.
There were supposed to be four, each 100 to 150 kilometers long, containing some 15 million people. (If these dreams had come true, Poland would consist of almost twice as many people as it does now, without any urban sprawl.) But the symbolic aspect is also important.
The linear cities were supposed to be egalitarian. Without any center to gather around, there would be no citywide inequality. The backbone of four linear cities – unnamed, known only by socio-geographical descriptions – would have been only one railway per city, with several east-west connectors to move through cities. Zoning was supposed to be linear, with a strip of apartments, a strip of offices, and an industrial zone.
The Linear Continual System's heritage
Was Oskar Hansen's Linear Continual System utopian? Yes, mostly. The first thing is that 1960 was already a bit too late to start from scratch. The other is perhaps more important: there is never time for large-scale visionaries, with a critique mostly based on impossibilism and common-sense arguments. Yet, as proponents of the Linear Continual System point out, Polish cities are somewhat linear. Warsaw is elongated to the north-south, as is the northern Tricity. Meanwhile, the Silesian conurbation – a set of some twenty cities that have grown to become one – is almost a literal, linear urban space, with wheel and rail communication backbones making them even closer to Kraków as well.
Oskar Hansen cannot take credit for such spatial organization in Poland. Yet still, after six decades, his plans are being discussed as a part of the urban planning narrative he, himself, admitted to be never-ending.