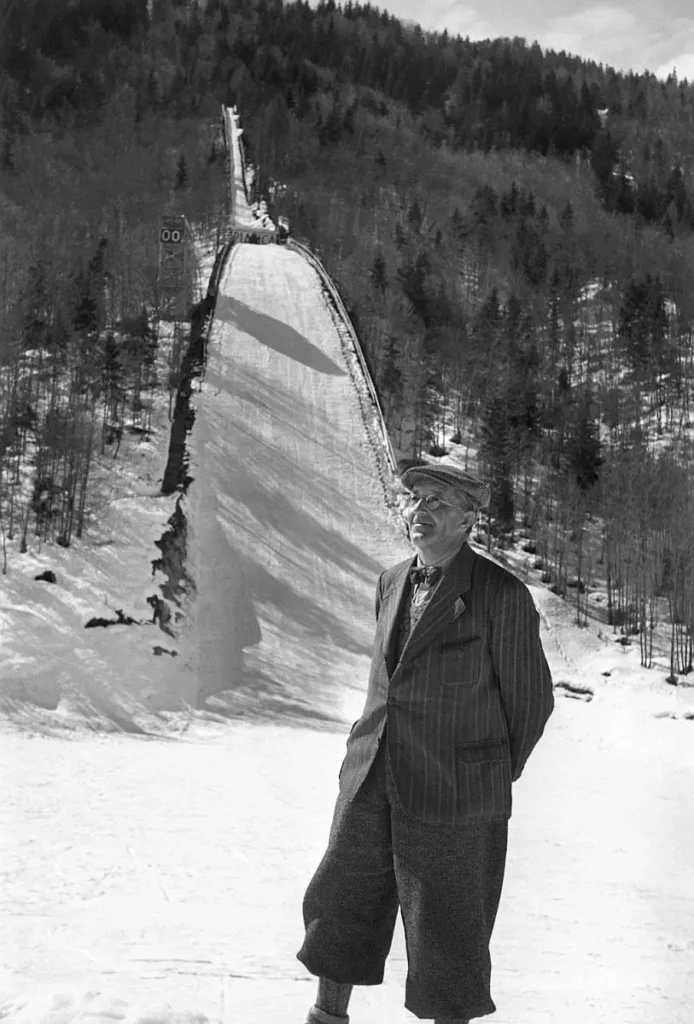 It all began in the 1930s when Joso Gorc wanted to put Slovenia on the world map by building the largest ski jumping hill in the world. Together with engineer Stanko Bloudek, they found a perfect location in Planica, Slovenia, and constructed a 90m-long jumping hill. Named after one of its founders, Bloudek Giant was, at the time, by far the largest in the world. It was so large, in fact, that the International Ski Federation (FIS) strongly discouraged its construction out of safety concerns.
Ski jumping and ski flying are closely-related extreme sports where a skier skis down a steep track and attempts to generate sufficient speed to "fly" above the hillside as far as they can, oftentimes reaching enormous distances. A sport for crazy people indeed. The absolute maximum length permitted was 70m, though most hills were shorter than that. Gorc and Bloudek didn't care and decided to design the Planica track so that it would be long enough for skiers to achieve 100m+ jumps.
Now that's sky flying!
And voilà – this feat was officially achieved for the first time in 1936. On the occasion, Bloudek said: "That was no longer ski jumping. That was ski flying!" And thus, ski flying was born. FIS finally gave in two years later and permitted it.
For decades, Planica remained the only place where ski flying was possible, and the now world-famous jump hill was further enlarged to allow longer jumps. A record of 120m was achieved in 1948.  However, during the following decades, other ski-flying hills were constructed, leading to a break in world-records happening on this Slovene hill for over two decades.  
But the Slovene pride was strong, so they decided to take ski flying, already an extreme, to the extreme of extremes. Instead of enlarging the now seemingly "small" Bloudek Giant , the all-new and much longer Flying Hill of Gorišek Brothers, named after the engineer brothers, was created, putting Planica back in the world record business, starting with five on just the first day of flying there in 1969.  In 1972, it also became home to the first Ski Flying World Championship.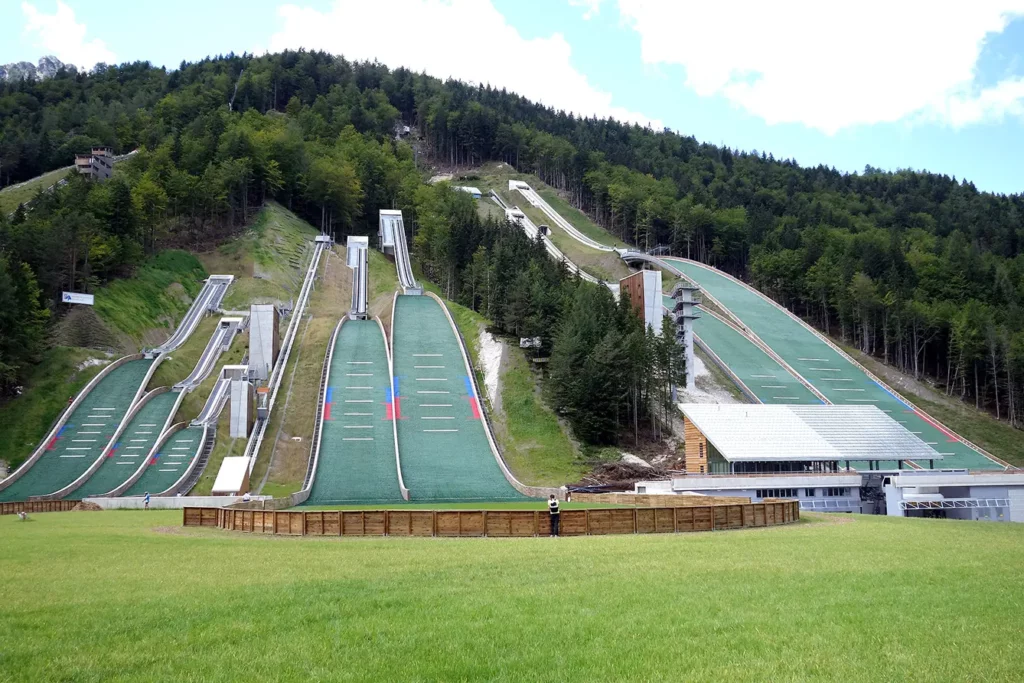 The competition for the best flying hills is fierce, with Planica constantly in rivalry with other flying hills. With a current track of 240m and a record flight of 253.5m, it remains one of the two largest hills in the world – not to mention the hill with the richest tradition.
The Flying Hill of Gorišek Brothers has hosted a record seven World Championships and has been a permanent host of the Ski Jumping World Cup finals for two decades, attracting around 150,000 visitors a year. It remains the queen of ski flying and an undeniable part of ski jumping culture. With the tradition remaining strong in Slovenia, it promises a lot for the future of the sport.