Riga is home to one of the world's richest collections of Art Nouveau buildings. Approximately 800 strong, their ornate facades dominate postcards, souvenir magnets, and covers of guidebooks. However, as much as they do tell of the prosperous late 19th and early 20th century, Riga's less revered wooden heritage covers Latvia's story in more depth. Numerically speaking, at 3500, those less prominent wooden buildings outnumber the Art Nouveau wonders by far. Both coexist harmoniously, mingling with Gothic gems, modernist monstrosities, and historical parks, weaving Riga's unique tapestry. So why zoom in on the city's wooden legacy?
History carved in wood
Forests and the timber they provide are one of Latvia's prized natural resources, which have led to a long-established tradition of craftsmanship and building with wood. The local wooden architecture combines Latvian, German, Russian, Swedish, and Polish influences, revealing the history of Latvia long before its independence.
The surviving wooden buildings illustrate the durability of solid timber and the resilience of Riga and Riga's residents. They outlasted events and trends such as sweeping fires, the early 20th century's rapid rise of capitalism with its masonry buildings, two world wars, fifty years of Soviet occupation with its modernist tendencies, and the 1990s through to early noughties (when 'new' served as the buzzword).
Not limited to one location, Riga's wooden heritage is everywhere
Recent restoration projects indicate that appreciation for the city's humble wooden buildings is growing. Several areas and addresses in Riga offer more than a glimpse into this regional heritage.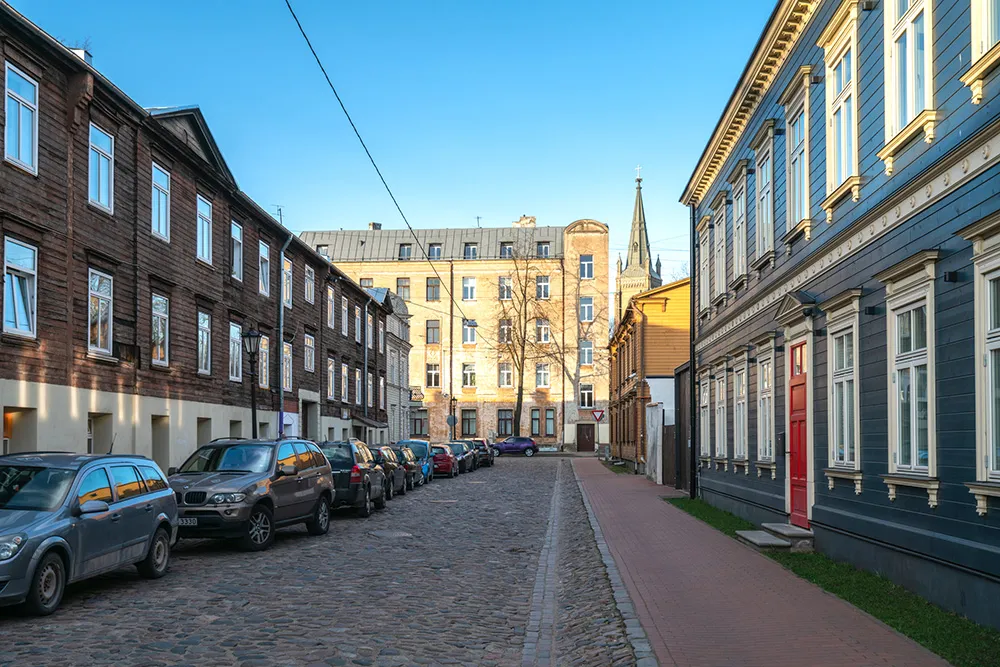 Kalnciema Quarter. A painstakingly-restored cluster of 19th-century buildings. The quarter now houses a cafe, wine shop, gallery, and offices. Every Saturday, it hosts a farmers' and crafts market, and during the summer months, you can hear live music and enjoy street food events in the open-air courtyard.
Mūrnieku iela. A street in the former working-class neighborhood of Grīziņkalns. The city council ran a pilot project involving local residents in revitalizing the area and reviving its historical charm.
The Church of Jesus is one of the largest wooden churches in Europe and dates back to 1822. It was built on top of two previous houses of worship, which had perished in warfare fires.
Ķīpsala. An island on the River Daugava. Once home to a modest fishing community, now prime real estate with a panoramic view of the city's old town.
Mežaparks. Designed as one of the world's first garden cities, the leafy neighborhood on the shores of Lake Ķīšezers is home to a few solemn villas, some of which house foreign ambassadors.
Nordeķi Manor. Recently reopened as an events venue, this exquisite 18th-century baroque piece experienced an empathic, sensitive transformation. Located in an eclectic residential neighborhood, it gives reason to venture outside the city's center.
An old legend says that Riga will never be complete – constantly changing with the times. The city is like a living archive; its past likely holds clues on how to live in the future. Wood, the material now proclaimed by many as, for example, the construction material of the future, and the hottest thing in sustainable building, serves as an excellent example of its hidden wisdom. It takes a stroll around Riga to understand why.