Asked what inspires him, during a visit to Bulgaria, Pierre Cardin allegedly answered: "There is nothing greater ever created in the field of fashion and design than the Bulgarian folk costume." Regardless of whether the great French designer uttered these words, the designers working to revive traditional Bulgarian folk costumes certainly believe so. And their efforts are starting to pay off, as authentic national costumes and decorative elements are making a comeback.
Bulgarian folk costume: reactivation
Once considered mostly a museum-worthy artifact, nowadays, such costumes are being sported by newlyweds and high school graduates, presenting them at their graduation gala events. Who are the people bringing national costumes to the fore?
Before turning to design, Yordan Simonski of the "Shevitsa" company in Blagoevgrad, in southwestern Bulgaria, studied Ethnography. His foray into creating folk costumes was only a matter of time. "I take it as a creative challenge because the making of each costume is unique. I take into account the specific embroidery, the specific motif. And that requires research," Simonski says in a conversation with 3Seas Europe. His company specializes in tailoring costumes for folk dance ensembles – a challenging enough task – but Simonski and his team only cater to individual clients, with his creations being shipped off, among others, to Japan, the US, New Zealand, and Thailand.
"The value of each costume is that it carries the spirit of each client, who wants this garment to shine in different colors. And as for young people who are showing more interest in our craft by putting on these clothes during solemn moments, they show respect and reverence," Simonski adds.
Seven traditional cuts
When it comes to its folk costumes, Bulgaria is divided into seven regions with different cuts of the garment, colors, types of embroidery, and ways of making, with the time required to finish one costume depending on all of these factors. Designer Raina Gancheva, who works in the town of Tryavna in central Bulgaria, doesn't start work until she hasn't conducted an interview with each of her clients. This allows her to get a better understanding of the unique garment she's about to create. "I always say that only god gives creative gifts. The sewing part of the job is just a small detail," she tells 3Seas Europe.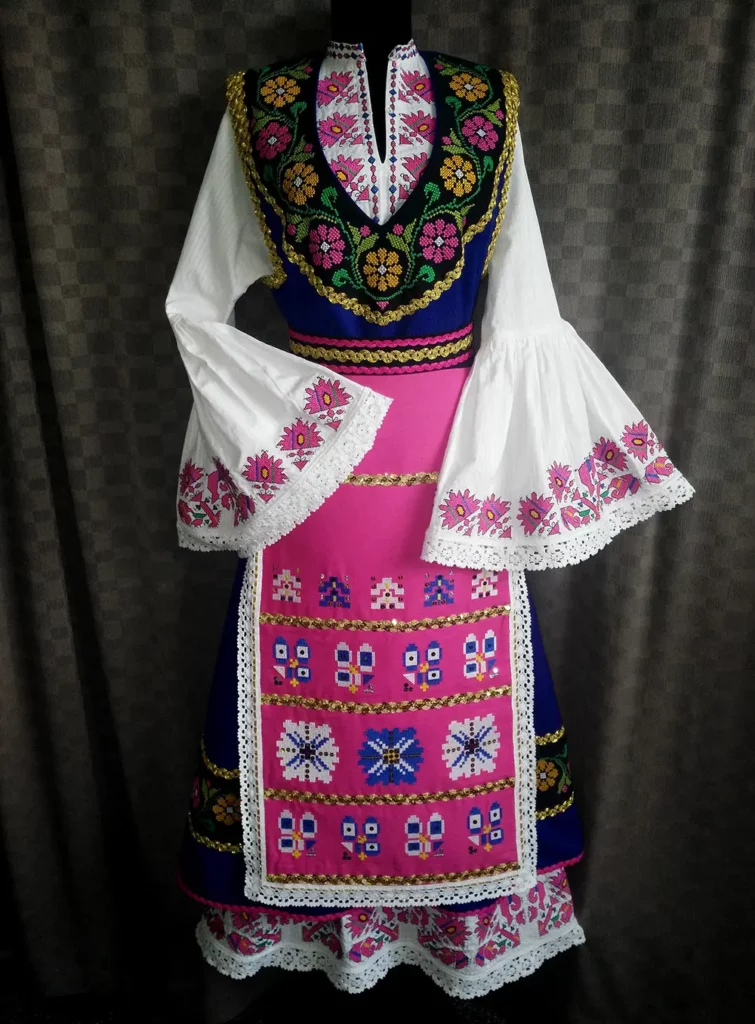 Raina Gancheva studied to be a sculptor, but as a student in Veliko Tarnovo, one of Bulgaria's historic capitals, she was engulfed by researching traditional folk costumes. Gancheva sees costume-making as an art. She notes that her craft reflects the Bulgarian woman's soul – her imagination, inspiration, and patience, which is a major requirement when working on such demanding pieces. Opened 17 years ago, Gancheva's atelier also caters to a younger audience today. As always, she relies on traditional fabrics on which to embroider different motifs according to the wishes of her clients.
"For me, these costumes carry knowledge about our traditions. I chose to dedicate my life to them because of their high artistic value. In communist Bulgaria, this didn't matter. Folk costumes had no value. It was virtually impossible to spot someone wearing such garments on the street. Once Bulgaria opened to the world and Bulgarians saw how mesmerized foreigners were by our folk costumes, the shift finally took place. Bulgarians also opened their eyes to their beauty," Gancheva adds.
While younger clients are looking for designs that can be worn with ease more often, Gancheva observes that the preference for traditional embroidery and patterns is here to stay. "Honeymooners and graduates don't look at the national costumes as something disposable. A white bridal gown is only worn once. Whereas a national dress, with its bright colors and beautiful embroidery, is applicable for more formal events," the designer says. Here's one such occasion. Every year at the end of August, the village of Zheravna in Central Bulgaria hosts the International Festival of Folk Costume. The dress-code? You've guessed it. Folk costumes only.