While global media reported on lockdown-related toilet paper shortages, in Latvia, buckwheat was one of the first products to fly off store shelves. It is a staple of many kitchens across Latvia and the wider region, and so is kefir, a fermented milk drink brimming with good bacteria. So how are the two related?
Well, in 2020, Latvian startup Fermentful established a new connection between the two ingredients. It started to produce fermented green buckwheat drinks that are not only beneficial for the gut but also taste good. Currently available in plain, sea buckthorn, and apple-lingonberry versions, the flavor palette reflects the plant-based drink's Northern roots. However, they do also have a cocoa version that adds a more exotic flair.
"To my own surprise, dark chocolate and kefir are a delicious match. It's like a healthy and drinkable chocolate dessert. You can taste the bitter notes of the dark chocolate and the slight sourness of the kefir," Anda Penka, co-founder of Fermentful, speaks of the flavor profile.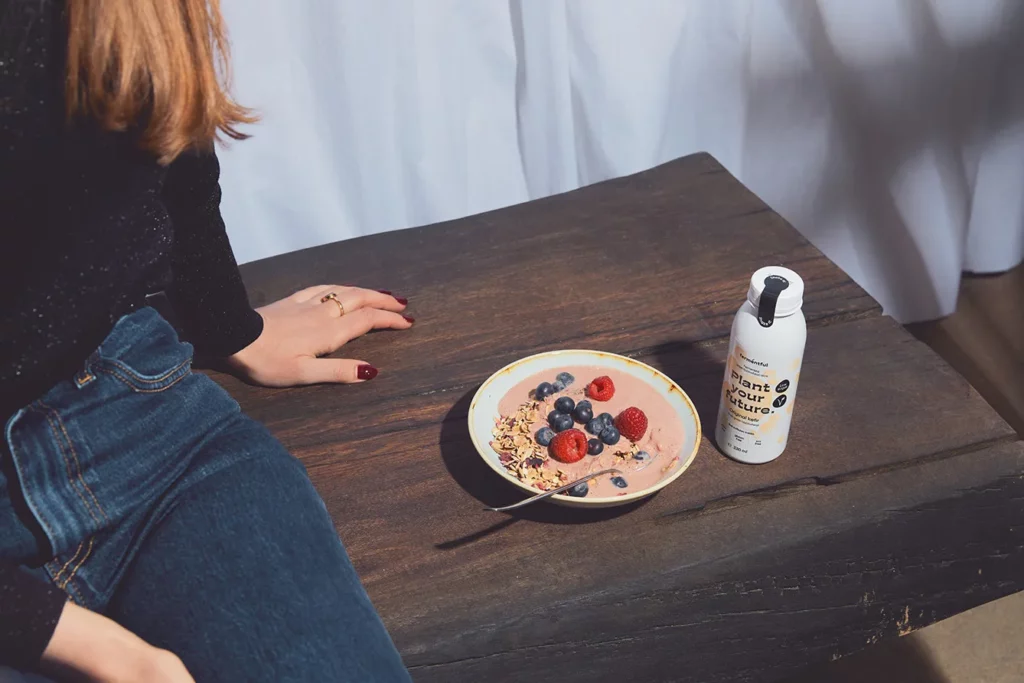 Focused on the health of people and the planet
Fermentful uses organic, Latvian-grown green buckwheat – a veritable superfood with strong antioxidant properties and containing all essential amino acids – including lysine, which is not typically found in plants. This is blended with water, bean protein, cashew nuts, vegan kefir culture, and natural flavorings.
Using local crops as the foundation was essential to Fermentful as they are keen to keep their environmental footprint small. "Buckwheat is used in crop rotation to improve soil quality, which means that using green buckwheat is a way for us to give back to the land that so many of our resources come from," Anda explains.
A self-proclaimed coffee lover with a keen interest in food and how it can improve people's quality of life, Anda had initially thought to produce buckwheat milk. She was fascinated to learn that Latvian researchers had looked into pea, oat, and hemp milk but not buckwheat milk. The turning point came when she and co-founder Oksana Dasko were presenting the idea at the EIT Food Innovation Prize competition for startups, and a jury member asked how it would differ from other plant milks. Their answer was fermentation – a passion of Oksana's.
Fashion, exports, and fermentation
Prior to founding Fermentful, both Anda and Oksana had worked in the food industry, but neither had a formal education in the field. Anda studied textile technology and design, gaining her first work experience in the fashion industry, where she learned that delivering a beautiful collection takes very precise and consistent efforts. She later transferred her knowledge and skills to a boutique chocolatier, becoming its export manager. After completing an MBA, Anda felt ready to start something of her own. She had the vision but realized that she needed a business partner with additional skills. That's when she thought of Oksana.
Their paths had first crossed at a food industry trade show in Paris when representing their then-employers' brands. A telecommunications engineer by education, Oksana, too, had switched careers to become the export manager for a healthy snack producer. She also began experimenting with fermentation, introducing numerous people to its powers via workshops.
However, "we like to say that the microorganisms are the real creators behind Fermentful's products. We only assist them, trying to ensure favorable conditions and ingredient combinations," Anda says humbly.
Science propels the Fermentful business forward
Along with the microorganisms, scientists have been key partners for Fermentful in devising production processes and recipes and researching the properties of the ingredients. So far, they have worked with the Latvia University of Life Sciences and Technologies and plan to collaborate with researchers in Finland, where the drinks are already sold.
Anda shared insight on finding a common language between entrepreneurs and researchers: "We had a very clear vision and had developed some prototypes in the kitchen. The scientists helped us understand the technological processes, recipes, and analytical aspects. So, entrepreneurs need to be open-minded, entering the partnership not with the expectation that the researchers will come up with an idea for them, but rather that they will validate their existing idea."
"We're an example of absolute thinking outside the box because we've combined things and created a process that wouldn't traditionally be used to make a product like this," she adds.
Buckwheat-kefir drink: Coming soon to a shop near you
Already a graduate of the EIT Food Acceleration Network program, Fermentful is currently participating in the Polish retailer Żabka Group's acceleration program, aiming to introduce the product to Polish consumers. Along with Poland, the startup is focusing their current efforts on the Baltic market, Finland, Sweden, Czechia, and Switzerland.