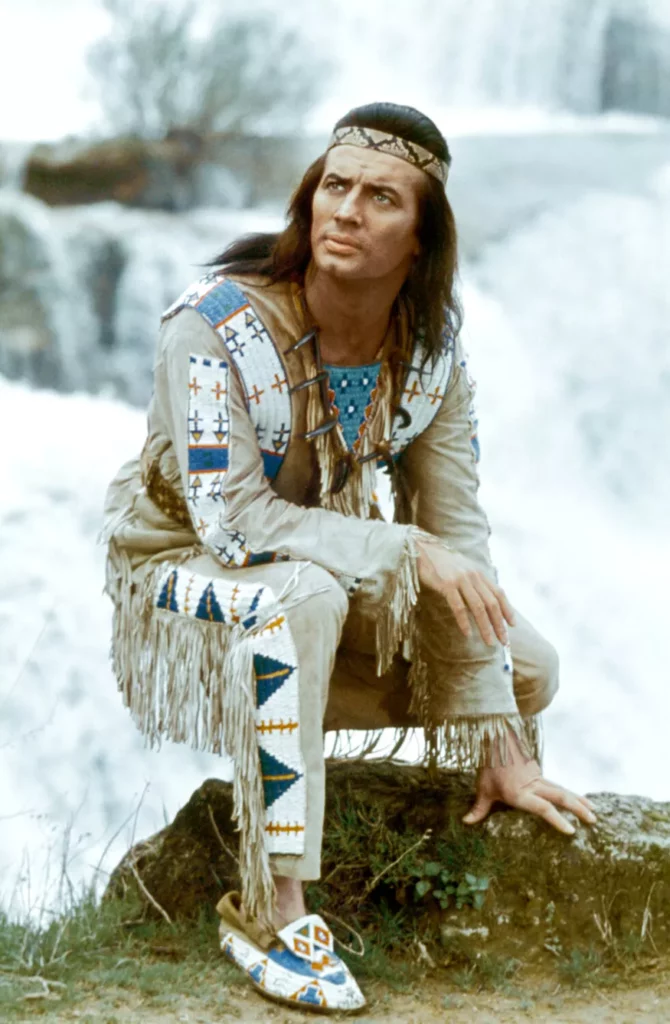 Those of us who have that wanderlust trait within must be drawn to the idea of a full-on road trip in North America. Picture this – traveling from the East Coast to the West Coast, going via national parks, deserts, prairies, and canyons. Spotting antelopes instead of does, marveling over chipmunks… stop me here! Indeed, America sparks the idea of the great outdoors bringing it to another level.
Perhaps it is down to the stories of Indians and cowboys still so vivid in our imagination. And who is the most famous Indian chief, at least among Europeans? The answer would have to be – Winnetou.
Although a fictional character, Winnetou has earned his place in literature and became a cultural icon whose popularity vouched for a series of films to be made in the 1960s. And here's where the connection between the USA, Winnetou, and Croatia becomes clear, as Winnetou was filmed in… Croatia.
Croatian landscapes were wild enough to play the part of the Wild West setting. Let's take a quick look at the most famous Winnetou filming spots, which still invite tourists with their unspoiled beauty.
Winnetou locations: Paklenica National Park
Established in 1945, Paklenica National Park is situated in the chain of the Velebit Mountains. The park offers a whooping 150 km of walking trails and is home to many species of animals, including bears, eagles, and wolves. It is also famous for its caves and two large ravines. Proud of its cinematographic past, the spots appearing in the Winnetou series are marked with special plates.
But what is Paklenica? The park's name originates from… sap of black pine trees. The word 'paklina' stands for the sap obtained from this tree species which is known for its medicinal properties. One can only speculate whether Winnetou, if he was real, could be drawn to this area for this reason. One thing is for sure – one real-life leader recognized the Canyon of Great Paklenica as a natural hideout. No other than Josip Broz Tito. In the 1940s and 1950s, he gave an order to construct a bunker that could provide shelter to the local people in case of USSR aggression on the country. The bunker is now open to the public for touring.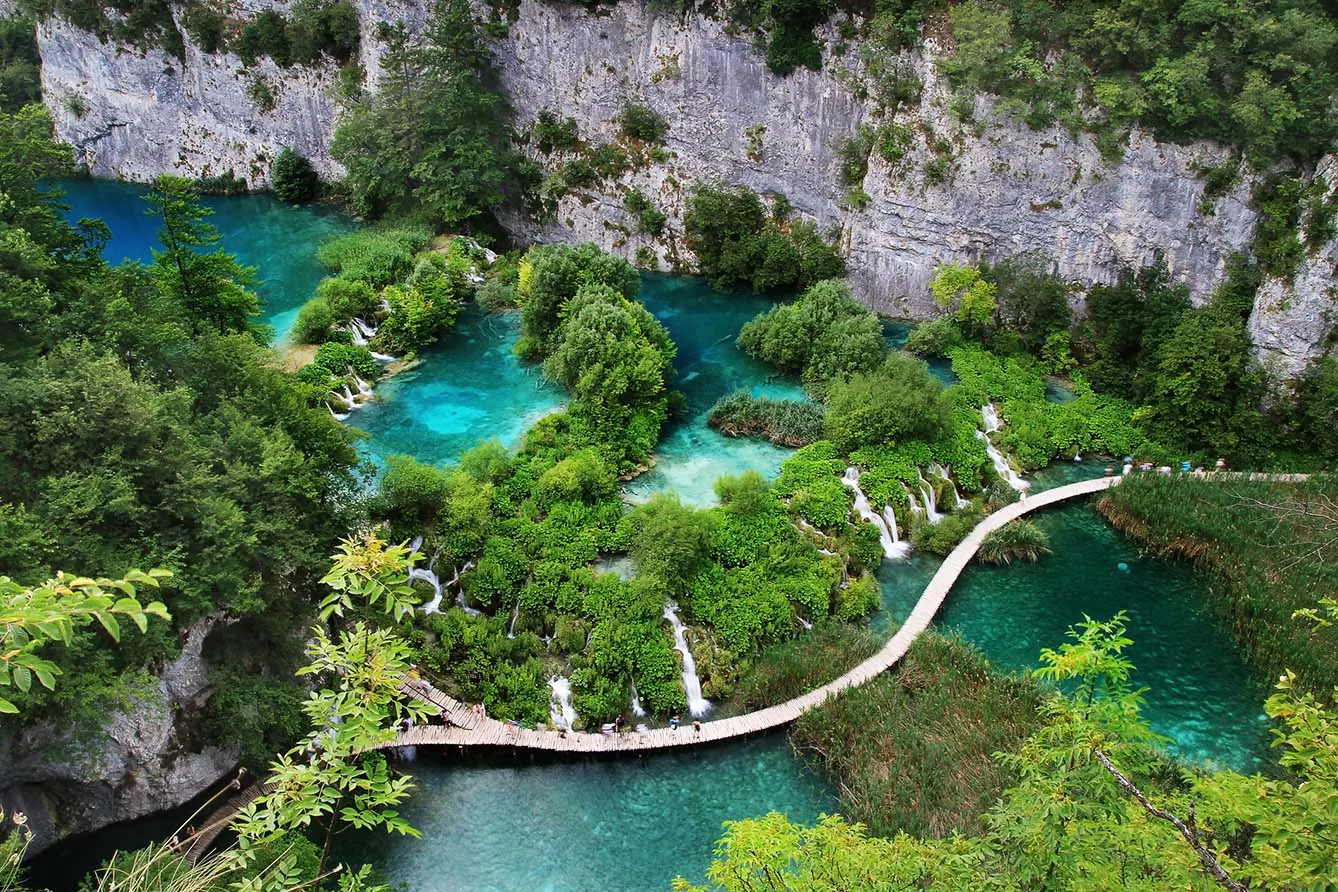 Winnetou locations: Plitvice Lakes National Park
Plitvice Lakes National Park is not just 'some other' national park. Covering over 19 hectares of land, the lakes themselves amount to as little as 1% of that area. But that is enough to attract thousands of tourists eager to see the picturesque, turquoise lakes surrounded by white rocks and waterfalls. If we were to talk numbers, we would be looking at 16 lakes, 92 waterfalls, and… 20 caves. The uniqueness of this breathtakingly beautiful site was recognized on a global scale as it was added to the UNESCO list as a Natural and Cultural World Heritage site.
It takes an average of a 6-hour walk on strictly established trails to see with your own eyes what nature can do with a little excess calcium. The tufa barriers (tufa is a type of light, porous rock) created cascades of crystal lakes and curtains of waterfalls adorned with green, mossy fringes. Missing one day of town sightseeing or swimming in the sea is a small sacrifice one has to find themselves in a fairy-tale setting.
Krka National Park
The Krka National Park may be smaller than its Plitvice Lakes cousin, but its 109 kilometers squared are packed with abundant waterfalls and… birds. It is an important ornithological site that plays a vital part in the migration of birds. What makes this place additionally interesting are the remnants of human presence. Unsurprisingly, we can find traces of the Romans with their aqueduct and military camp.
Similarly, the ruins of the 14th-century Croatian fortresses remind us of battles long gone. But the force of the water made the river Krka an important element in supplying the people of the coast with four. Renovated 13th-century mills testify to the centuries of traditional milling which took place in this area. Add a few hundred years and technological development and voilà! Seems like a perfect location for Europe's first hydropower plant.
And most of all, Krka National Park is a simply beautiful place. Not a coincidence it was chosen as a setting for the majority of romantic scenes between Old Shatterhand and Nscho-tschi!
As you can see, although the great Winnetou never set foot in his supposedly native land of North America he didn't have to. The natural wonders of Croatia provide a similar experience to the great outdoors of the overseas land. But don't take my word for it. You must check it out on your own!
Now that you are here, be advised that Central Europe is a filming location of choice for more than a sixty-year old Indian movie. Did you know that many scenes of The Game of Thrones were set Dubrovnik? Or that Bulgaria features in many contemporary films? And how about Dracula's birthplace, presented in the new Netflix series? Or, Gray Man filming locations in Central Europe, including Vienna, the original city of spies? Subscribe to our newsletters for more similar highlithts (and more) in the future.